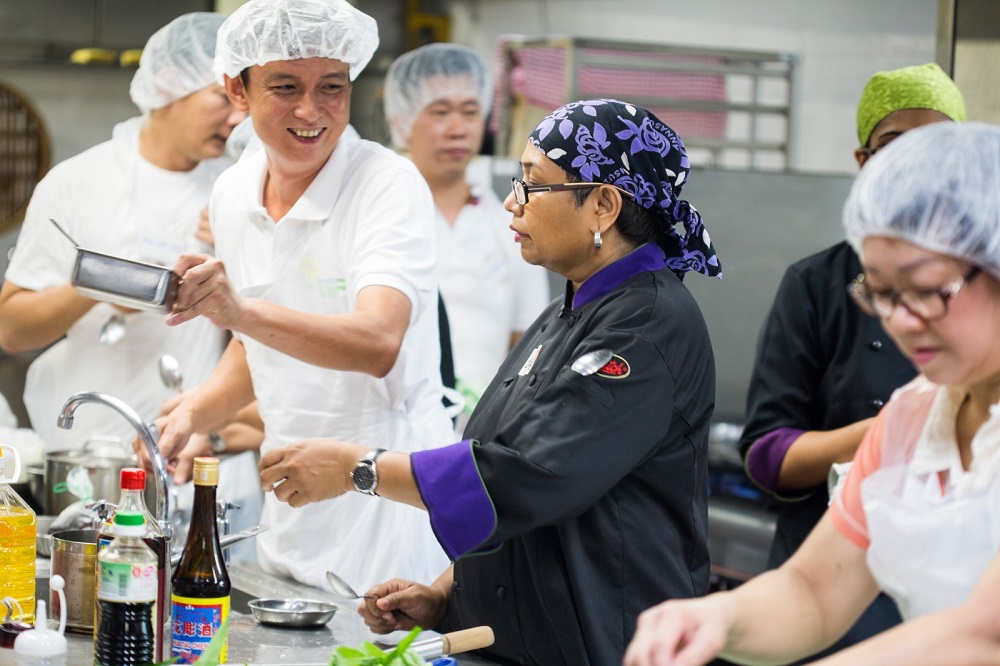 Over the years, Chef Devagi has conducted cooking and training workshops for chefs and novices in Singapore and many other countries besides United States, Montenegro, Australia, Sri Lanka, United Kingdom, Malaysia, India, Europe and Papua New Guinea, United Arab Emirates and most recently in Uzbekistan where she taught them the finer points of Asian cuisine and cooking. Chef Devagi continues to provide culinary educational experiences through lectures, demonstrations and team building activities at her cooking classes, hotels, restaurants, country clubs, recreational associations, schools and corporate bodies. She completed many successful guest roles as a celebrity chef at events and appeared as judge for many culinary competitions in Singapore as well as overseas.
Demonstration Classes
Casual, fun and interactive, with none of the formality that other cooking schools may have, Chef Devagi's demonstration classes are a great way to spend an evening. Hands-on classes will have participants rolling up their sleeves and working in tandem with the effervescent host, as she reveals her secrets to preparing fabulous food. Whether they choose to sit back and observe, or prefer to get right into the action, enthusiasts will leave with copies of Devagi's exceptional recipes and the confidence to prepare them on their own.  Class schedules are uploaded onto this website, Instagram and Facebook.
Private Culinary Instruction – ONE-ON-ONE
One-on-one cooking classes can be taught in the comfort of your home or at an appointed venue. These private sessions will provide you with complete flexibility in learning at your discretion. Learn everything and anything you've ever wanted to know about cooking – ranging from the most basic to the most sophisticated. Just tell us what you wish to learn and we will customise a menu to your needs. We can show you how to be creative with minimum of ingredients and how to cook healthy yet nutritious meals.  Whether you want to brush up on your culinary skills, or you need help boiling water, we can customize a program for your skill level.
Email:  [email protected]