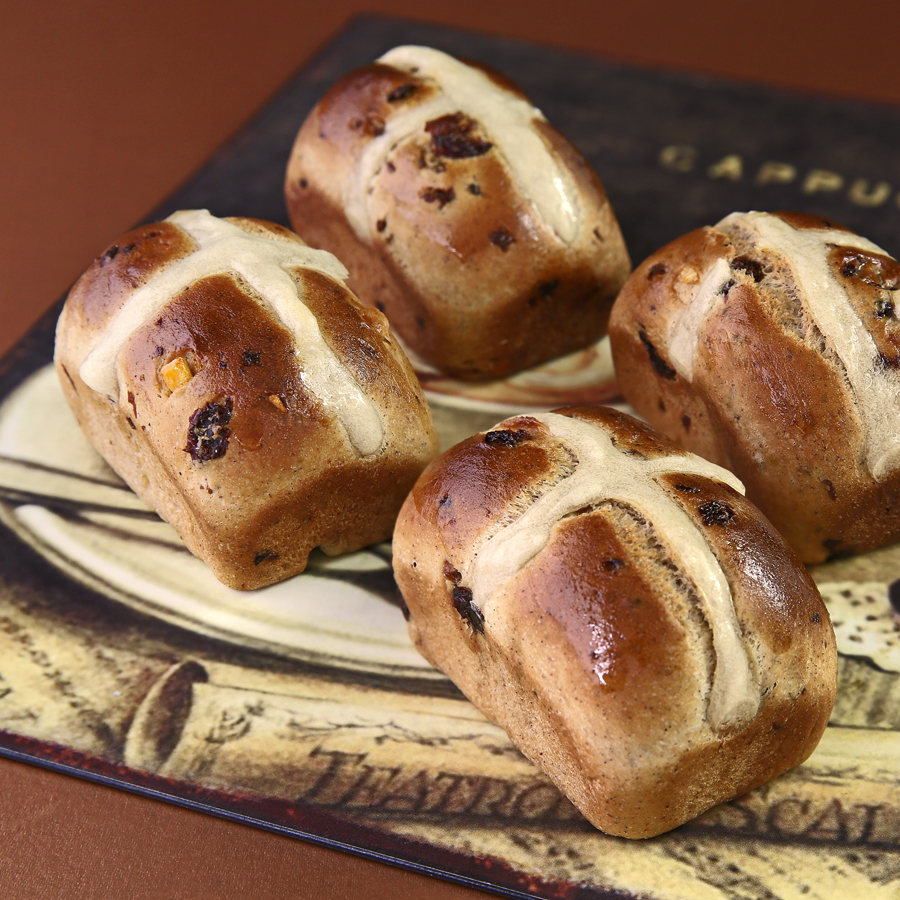 These mini, lightly sweet yeast loaves are perfect for Easter. Instead of brushing with apricot jam, you dust with sifted icing sugar. I like to slice the loaf, toast it lightly and spread with cream cheese………just yum!
Preparation time: 15 minutes
Cooking time: 30 minutes
Serves: 6
450 ml full-fat milk
70 g butter, room temperature
750 g bread flour
2 teaspoons ground cinnamon
1 1/2 teaspoon salt
100 g caster sugar
11 g instant yeast
2 medium eggs, beaten lightly
100 g raisins
80 g mixed peel
FOR THE CROSS:
160 g plain flour
200 ml water
4 tablespoons apricot jam combined with 3 tablespoons water and strained
METHOD
Place the milk, butter, bread flour, cinnamon, salt, sugar, instant yeast and egg into a mixing bowl and knead for 10 minutes using an electric mixer on medium speed.
Cover with cling wrap and keep aside for 30 minutes or until it doubles in volume.
Put in the raisins and the lemon peel and knead again at medium speed for 5 minutes.
Divide the dough into 10 portions and place each portion into a 350 g loaf pans.
Leave aside for about 30 minutes for it to rise.
Heat oven to 220C.
Mix the flour with water to make the paste for the cross – add the water 1 tablespoon at a time, so that you will add just enough for a thick paste.
Spoon into a piping bag with a small nozzle. Pipe a line along each row of buns, and then repeat in the other direction to create crosses. Bake for 20 minutes on the middle shelf of the oven, until golden brown.
Brush the buns while still hot with the apricot jam and leave the buns to cool.