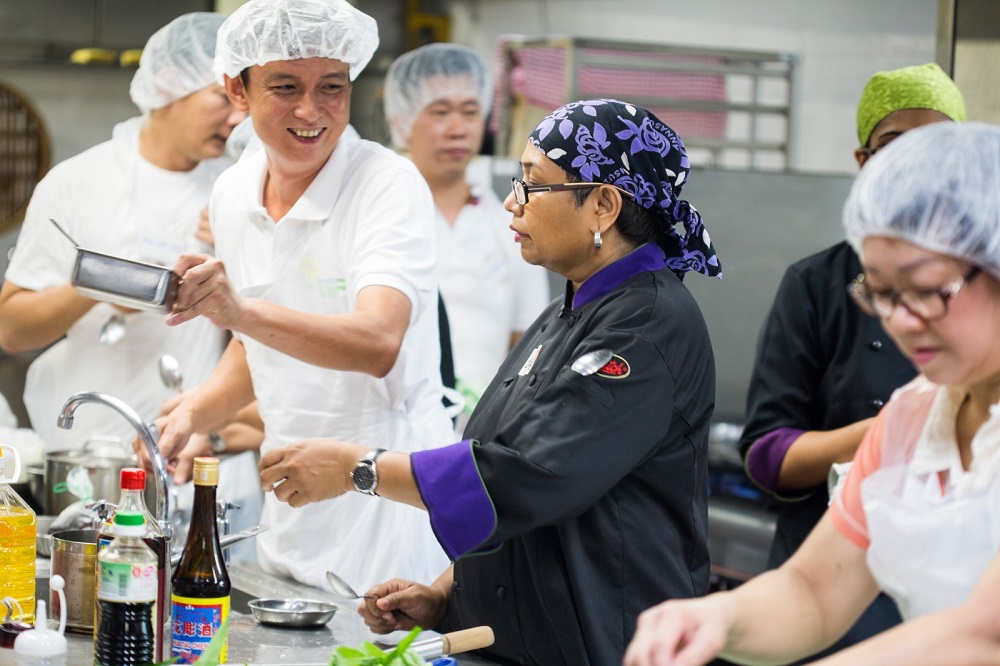 Throughout the years, Chef Devagi has conducted cooking and training workshops for both seasoned chefs and beginners, spanning across numerous countries including the United States, Montenegro, Australia, Sri Lanka, the United Kingdom, Malaysia, India, various parts of Europe, Papua New Guinea, the United Arab Emirates, and most recently, Uzbekistan. In these sessions, she imparts the nuances of Asian cuisine and cooking. Chef Devagi remains committed to providing culinary education through lectures, demonstrations, and team-building activities, held at her cooking classes, hotels, restaurants, country clubs, recreational associations, schools, and corporate establishments. Additionally, she has taken on esteemed roles as a celebrity chef at various events and served as a judge in culinary competitions, both in Singapore and abroad.
Demonstration Classes
Chef Devagi's demonstration classes offer a casual, enjoyable, and interactive experience, free from the formalities often associated with cooking schools. In the hands-on sessions, participants will dive in, working alongside the lively host as she shares her tips for creating fantastic dishes. Whether attendees opt to observe or dive into the action, they'll depart with copies of Devagi's outstanding recipes and the assurance to replicate them at home. Class schedules are regularly posted on this website, as well as on Instagram and Facebook.
Private Culinary Instruction – ONE-ON-ONE
Indulge in personalized cooking lessons, either in the comfort of your own home or at a chosen venue. These one-on-one sessions grant you the freedom to learn at your own pace. From fundamental techniques to advanced culinary expertise, we cater to your every culinary curiosity. Simply let us know what you'd like to explore, and we'll craft a tailored menu to suit your preferences. We can teach you the art of culinary creativity with minimal ingredients and guide you in preparing wholesome, nutritious meals. Whether you're looking to refine your culinary finesse or starting from scratch, we'll design a program that matches your skill level.