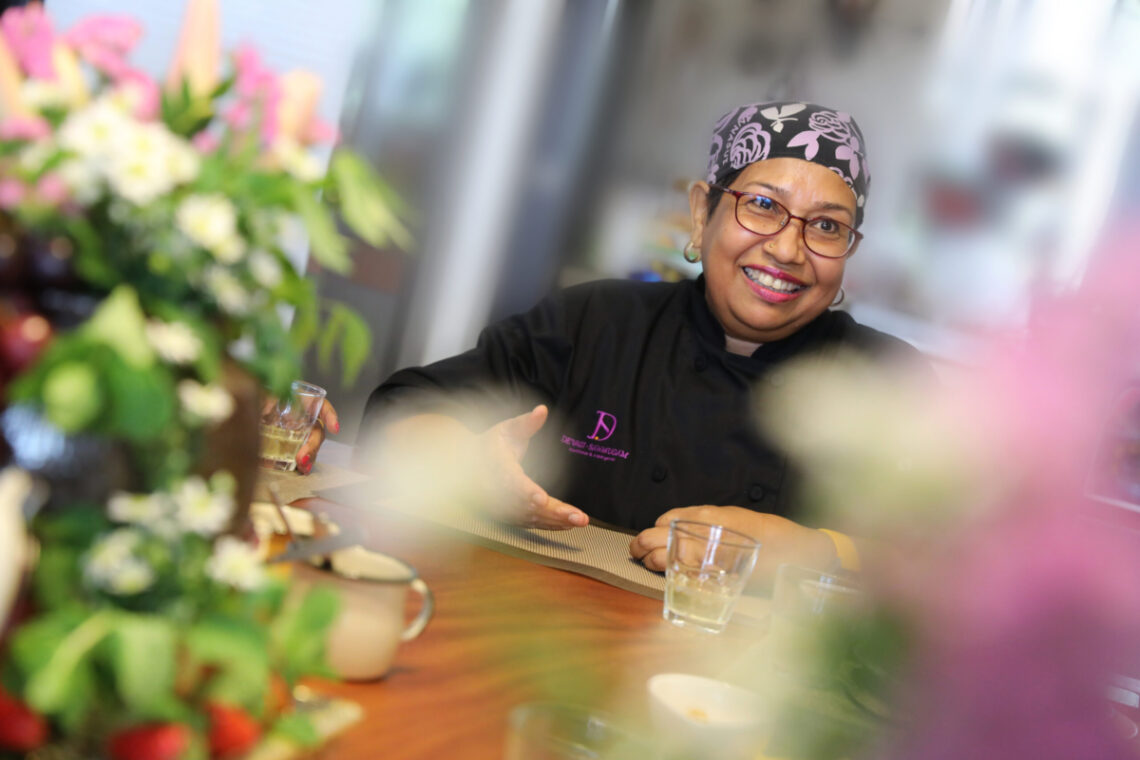 The Celebrity Chef
With a string of accolades that is as eclectic and imaginative as her recipes – cookbook author, food columnist, cooking instructor, entrepreneur and professional bon vivant – Chef Devagi Sanmugam, is one of Singapore's most dynamic and talented food personalities. Whether she is concocting recipes for her latest project or conducting cooking classes for budding chefs, her contagious enthusiasm transforms ordinary meals into dining adventures.
Chef Devagi Sanmugam's career began 39 years ago, in her kitchen, as a cooking instructor with a penchant for whipping up recipes. Her unique approach to cooking and her flair for creating recipes that cut across a range of cuisines quickly endeared her to a loyal following. Not looking back since, she has been at the forefront of Singapore's burgeoning culinary scene and the owner of Epicurean World, a culinary service providing company based in Singapore. In the Trust Survey 2009 by the Reader's Digest, Chef Devagi Sanmugam was listed as one of the 55 most trusted individuals in Singapore!
Chef Devagi is also a member of the Singapore Chefs Association and the Emirates Culinary Guild. She was a member of the ICAS Training and Education College (ICASTEC) Pte Ltd Academic Board of Advisor and part of the Culinary Consulting Panel for the Healthy Dining Award Programme of the Health Promotion Board (2013).
Chef Devagi has successfully completed an Advanced Certificate in Training and Assessing conducted by Singapore Workforce Development Agency (WDA). She also has a WSQ Certification in Digital Social Media Marketing. With these certification she is able to help companies from different industries in adopting and implementing the Singapore Workforce Skills Qualifications System (WSQ) Framework, including developing training programmes and assessment plans. In 2020, Chef Devagi is listed as one of the 200 popular personalities in the Tamil version of the Singapore Bicentennial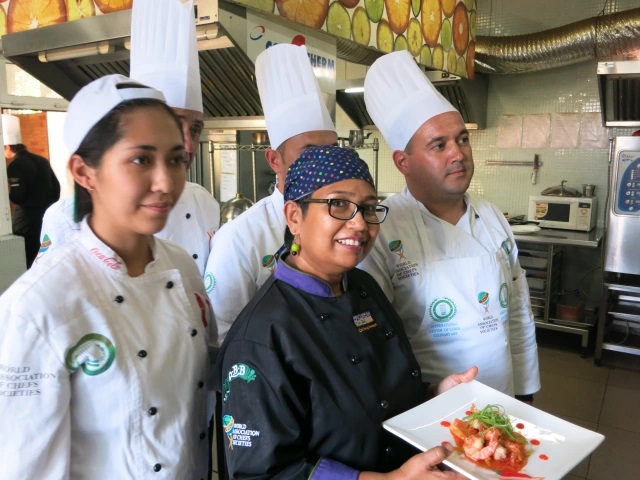 The Master Chef
Over the years, she has conducted cooking and training workshops for chefs and novices in Singapore and many other countries besides United States, Montenegro, Sri Lanka, United Kingdom, Malaysia, India, Europe, Uzbekistan, Papua New Guinea, United Arab Emirates and most recently in Australia where she taught them the finer points of Asian cuisine and cooking.
Chef Devagi continues to provide culinary educational experiences through lectures, demonstrations and team building activities at her cooking classes, hotels, restaurants, country clubs, recreational associations, schools and corporate bodies. She completed many successful guest roles as a celebrity chef at events and appeared as judge for many culinary competitions in Singapore as well as overseas. Chef Devagi also developed the curriculum for a culinary boot camp, coordinated and conducted the boot camp trainings for the Agency for Integrated Care Pte Ltd in Singapore.
The Brand Ambassador
Chef Devagi has been endorsing Q.B.B. Ghee, a product of Lactalis Singapore Pte Ltd from 2005 to 2016. As part of being a brand ambassador, she has taking charge of the Q.B.B. Ghee Fan Club, blogging and uploading recipes, conducting cooking classes and in touch with the print media for any recipe contributions etc.
From 2014 to 2016, she was a brand ambassador in Singapore for CATCH brand of India. CATCH products that include spices and salts are one of the best-selling products in India. As part of her duties, Chef Devagi also developed a range of local spice blends for this brand.
She was also a culinary consultant for NTUC Fairprice, Singapore's leading supermarket chain for a year.
The Recipe Developer
An accomplished authority on the local food scene, she is constantly involved in developing and testing original recipes and formulas for food companies, hotels and restaurants in Singapore and overseas. Her approach when developing innovative menus and food offerings is to focus on creating food with integrity, food with honesty and food that is tempting forever.
She believes food made from scratch and cooked to order sets the foundation of excellence in a restaurant's food culture. Besides creating menus, developing and standardizing recipes, Chef Devagi also guides clients on detailed food product specifications, ingredient amounts, portion sizes, detailed production methods and procedures and photographs to ensure test kitchen consistency. She also guides and trains chefs and restaurant owners on setting up new commercial kitchens and general kitchen operation systems.
The Spice Blender
Since the beginning of her career in the food industry, Chef Devagi has worked closely with experts from spice companies like McCormick & Company and Lalah's Indian Spices & Food developing recipes and blends for them, and for other customers with all levels of cooking experience.
Today, there are many small and big companies who have at least engaged her services once to develop exclusive blend of curry powder, tea blends or spice blends. Some restaurants and cafes utilize her services for developing their signature dishes' spice mix.
Chef Devagi is constantly upgrading her knowledge on spices during her travels and when attending conferences and workshops. She conducts Asian Spice Appreciation and World Spice Appreciation workshops in Singapore as well as overseas.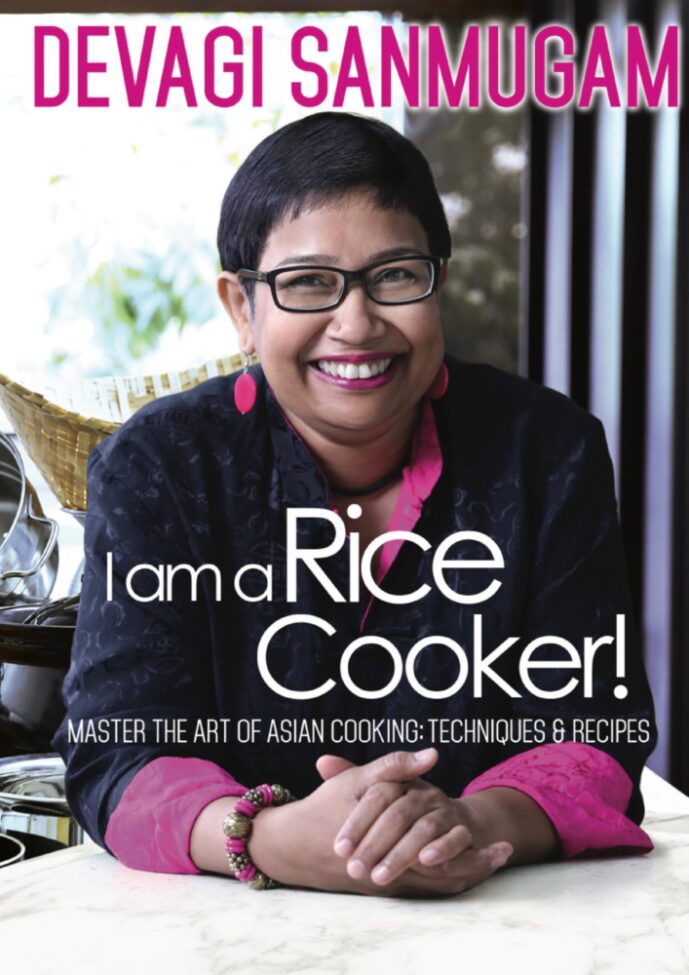 The Author
Known widely today as the 'Spice Queen' of Singapore, Chef Devagi believes "cooking is in my blood and my passion is sharing it" and has proven it by being an inspiring cookbook author with 22 cookbooks under her belt – Asian Herbs, Spices and More, Sambals, Dips and Marinades, The South Indian Cookbook, Great Bakes No Eggs, North Indian Cooking, Indian Rice and Breads, Homestyle Indian Cooking and Naturally Speaking – Indian Recipes and Home Remedies and several others.
She has also co-authored Cooking with Asian Leaves, Cooking with Asian Roots and Fun with Asian Food. Her recipes and articles have been and are still being featured in several magazines, newspapers and websites regularly. Chef Devagi customizes cookbooks according to client's need and has been the culinary consultant for several cookbooks example: Joo Chiat Home Cooking, The LG SolarDom cookbook, Recipes for Green Living and The Flavours of Fitness. Her latest 22nd cookbook I am a RICE COOKER! was launched in 2016. The book is the Winner – Cooking Schools Category, Singapore, Gourmand World Cookbooks Awards 2017.
Cookbooks by Devagi Sanmugam
Born To Eat
Banana Leaf Temptations
Great Bakes No Eggs
The South Indian Cookbook
North Indian Cooking
Indian Vegetarian Cooking
Homestyle Indian Cooking
Indian Rice and Breads
The LG SolarDom Cookbook
Fun With Asian Food – kids' cookbook
Sambals, Dips and Marinades
Indian Favorites
Naturally Speaking – Indian Recipes and Home Remedies –WINNER – Best Health and Nutrition Book, Singapore, Gourmand World Cookbooks Award 2007
Tropical Desserts
Indian Heritage Cooking – 1st Runner-up – Woman Chef Category, Gourmand World Cookbooks Award 2012
Asian Herbs, Spice and More
Indian Breads, Rice and Curries
I am a RICE COOKER! –Winner – Cooking Schools Category, Singapore, Gourmand World Cookbooks Award 2017
Tricks and Treats and other Childhood Tales – Winner – Children & Health, Singapore, Gourmand World Cookbooks Award 2011
Co-authored Cookbooks
Cooking with Asian Roots
Cooking with Asian Leaves
Hot Potatoes and Cool Bananas
Cookbook Consultant
Joo Chiat Home Cooking
The LG SolarDom cookbook
Recipes for Green Living
The Flavours of Fitness