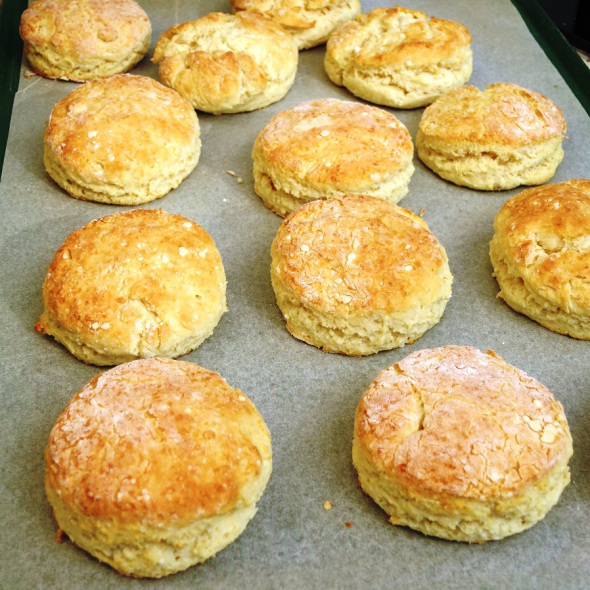 I love baking scones as they are not only easy to make but always a favourite with many people.  Once you learn how to make one basic scone recipe, you can modify and create many other scone recipes out of it.  Here I am treating you to my favourite Buttermilk Scones recipe.  This delicious tasting scone has as crisp crust and soft inside and is best served with whipped cream and raspberry jam.
Buttermilk is readily available in the supermarkets these days.  It has a nice creamy texture with a tangy and buttery taste.  I like to add buttermilk to cakes and puddings as it really makes them soft.  In case you cannot find buttermilk in the stores, you can always make it yourself.  Just add about 1 tablespoon of lemon juice or cider vinegar to 200 g of milk.  Let it stand for about 15 minutes and then use it!
Preparation time:  15 minutes
Cooking time:   15 minutes
Serves:  5
500 g self-raising flour
1/4 teaspoon salt
30 g caster sugar
60 g butter (cold), chopped
370 ml buttermilk
Raspberry jam and whipped cream, to serve
METHOD
Preheat oven to 220°C.
Line a baking tray with non-stick paper.
Place flour, sugar and salt in a large bowl.
Add  butter in. Using fingertips, rub the ghee into flour mixture until mixture resembles fine breadcrumbs.
Make a well in the centre. Add buttermilk and stir until dough almost comes together. Place on a lightly floured surface.
Knead dough very lightly until it comes together.
Using fingers lightly spread the dough till it is about 2 cm thick.
Dip a round cutter into flour to prevent dough from sticking and cut out scones.
Place scones on prepared baking tray. Bake for 20 minutes or until light golden and hollow when tapped on top.
 Serve with jam and cream.