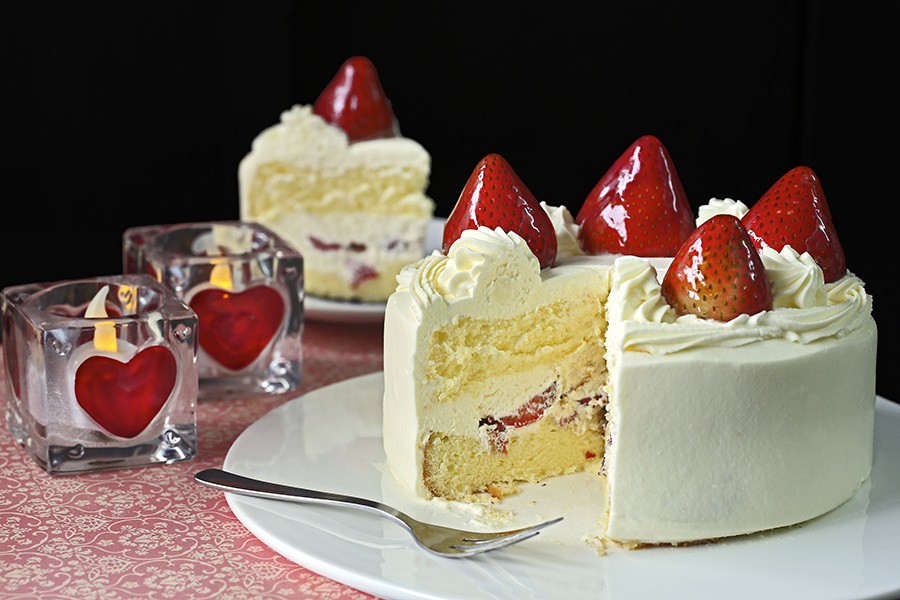 This Valentine's Day give something straight from your heart to the belly of your loved ones – a special homemade dessert! You can also invest in a heart-shaped baking tin and make your sponge in it. Strawberry shortcakes are not only delicious but awesome and pretty too!
Preparation time: 30 minutes
Cooking time: 30-40 minutes
Serves: 6
4 egg whites
120 g caster sugar
4 egg yolks
50 g milk, room temperature
1 teaspoon vanilla or rose essence
120 g cake flour, sifted twice
30 g melted butter
TO MAKE THE FROSTING
14 g unflavoured gelatine
50 ml cold water
400 ml whipping cream
120 g icing sugar, sifted
1 teaspoon vanilla or rose essence
TO MAKE THE SYRUP
80 g caster sugar
80 g water
12 fresh ripe strawberries
METHOD
Preheat oven to 170°C.
Line an 18-cm cake pan with non-stick baking paper.
Place egg whites and caster sugar into a bowl and whisk until almost stiff and glossy.
Add the egg yolks in and gently whisk until the yolks are incorporated.
Add milk, essence and flour to the beaten eggs and fold in gently with a spatula.
Fold in the melted butter until well combined.
Pour cake batter into the prepared tin and bake for 30 minutes or until a skewer comes out clean when inserted.
Cool the cake in the pan until is shrinks away from the edge of the pan and then loosen the cake and lace on a cake board.
Place water and gelatine in a small sauce pan and leave aside for 10 minutes.
Heat over gentle heat and stir until the gelatine dissolves. Remove from heat and let it cool down.
Add whipping cream, icing sugar and essence in a mixing bowl and whisk till it thickens.
Pour in the gelatine mixture and whisk at high speed until it becomes stiff. Store this cream in refrigerator until ready to use.
In the meanwhile, boil the sugar and water in a pan until the sugar dissolves.
Remove from heat and leave it aside to cool.
Keeping a few strawberries aside for decoration, slice the remaining strawberries into thin slices.
Slice the sponge cake horizontally into 2 layers.
Place one sponge layer cut-side up on the cake board and brush lightly with the simple syrup.
Spread a thin layer of whipped cream over the cake layer and arrange the strawberry slices over the surface.
Spread an additional layer of whipped cream over the strawberries.
Brush the second layer with the simple syrup and place it over the first layer.
Frost the sides and top of the cake with the remaining whipped cream.
Decorate as desired and garnish with the reserved whole strawberries. Serve.