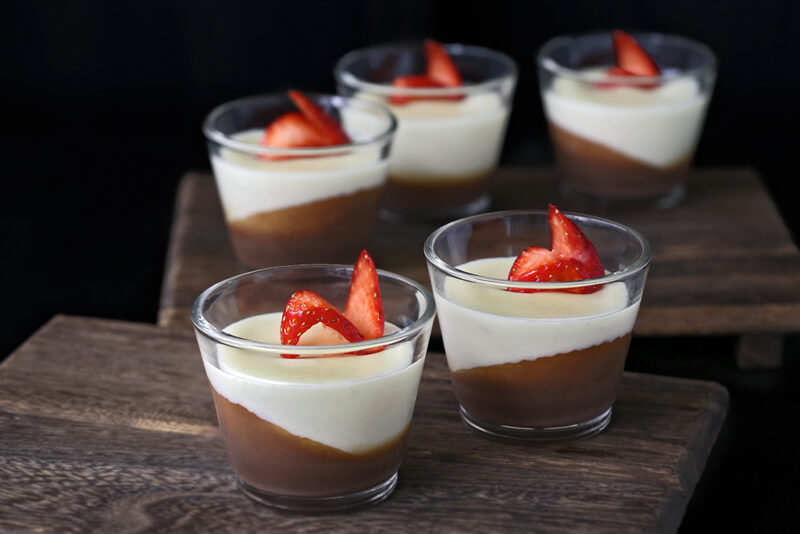 Phirni, an Indian dessert, is very popular in India for any festive occasions. I have used the basic Phirni recipe here, but tweaked it with two types of chocolate. This dessert is very appealing to both the old and young and can be made in advance. Best to serve it chilled.
TO MAKE THE GANACHE
100 ml thickened cream
150 g milk chocolate, chopped
10 g unsalted butter
TO MAKE THE PHIRNI
100 ml thickened cream
250 ml fresh milk
20 g caster sugar
35 g rice flour + 250 ml fresh milk
100 g white chocolate, chopped
1/2 teaspoon cardamom powder or 1 teaspoon vanilla essence
Strawberries, raspberries or any soft fruits that will not discolour

METHOD
TO MAKE THE GANACHE, pour cream into a small saucepan and bring to a boil. Remove from heat and add in the milk chocolate and butter.
Stir mixture with a wooden spoon till the chocolate is melted and smooth.
Divide mixture into 12 shot glasses or 6 X 100 ml glasses.
Leave to cool thoroughly.
Meanwhile, TO MAKE THE PHIRNI combine cream, milk and sugar in a saucepan over medium heat. Stir until the sugar dissolves.
Bring to a slow boil.
Combine the rice flour and 250 ml milk together to get a lump free mixture and whisk this into the hot milk and bring to a boil.
Keep whisking constantly until it thickens.
Remove from heat and stir in the white chocolate and cardamom powder until the chocolate melts.
Spoon this mixture over the chocolate ganache in the shot glasses.
Top with chopped strawberries or any fruit of your choice.
Serve warm or cold.


#chefdevagisanmugam #bananaleaftemptations #spicequeensingapore #phirni # #Deepavali #Diwali #festive #festivals #diwalifoods #indianfestivals #Indianfoods #Indiansweets #sweettooth #homemade #celebrations #sgindians #Singaporeindians #indianheritage #kheer #chocolatedesserts #indiandesserts #modernIndianfood #globalfood