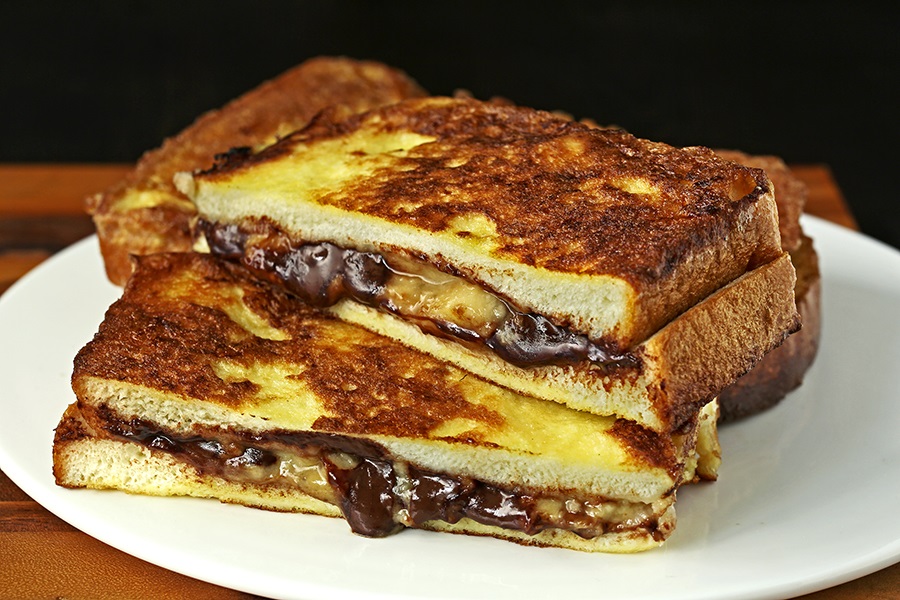 Banana Chocolate French Toasts
This is the perfect recipe if you are wondering what to make for breakfast this week. For me, French toast is like having dessert in the morning! I have experimented with mangoes, blueberries, chempedak and many other fruits. However, bananas are still the best, especially when combined with chocolate – yummy! Do take note that French toast does not taste good if fried in oil – it should be in ghee or butter.
Do make sure to wipe out the pan after every batch; otherwise burnt flecks of egg and little black bits will stick to the next batch of French toast.
Preparation time: 15 minutes
Cooking time: 5 minutes
Serves: 2
2 ripe bananas
80 g milk chocolate, chopped (or chocolate chips)
4 slices crusty white or wholemeal bread
3 medium eggs
1 tablespoon evaporated milk or double cream
1 tablespoon maple syrup or honey
1 teaspoon vanilla extract
Grated zest of 1 lemon
25 g butter
Ground cinnamon, to serve
Maple syrup or honey, to serve (optional)
METHOD
Peel and mash the bananas using a fork. Add the chopped chocolate and mix to combine.
Lay two slices of bread on a plate.
Divide the chocolate and banana mixture between them and spreading it almost to the edges.
Top each with a second slice of bread and press gently together to make a sandwich.
Whisk together the eggs, milk, maple syrup, vanilla extract and grated zest in a shallow bowl.
Melt the butter in a large frying pan over a medium heat. Lay one sandwich into the egg mixture to coat one side, and then carefully turn it over so that both sides of the sandwich are soaked in the egg.
Place the sandwich into the hot frying pan and cook for about 1 min on each side, until golden brown and the chocolate has started to melt.
Repeat with the second sandwich.
Cut the sandwiches in half to serve. Sprinkle with a little ground cinnamon and serve with extra maple syrup if desired.