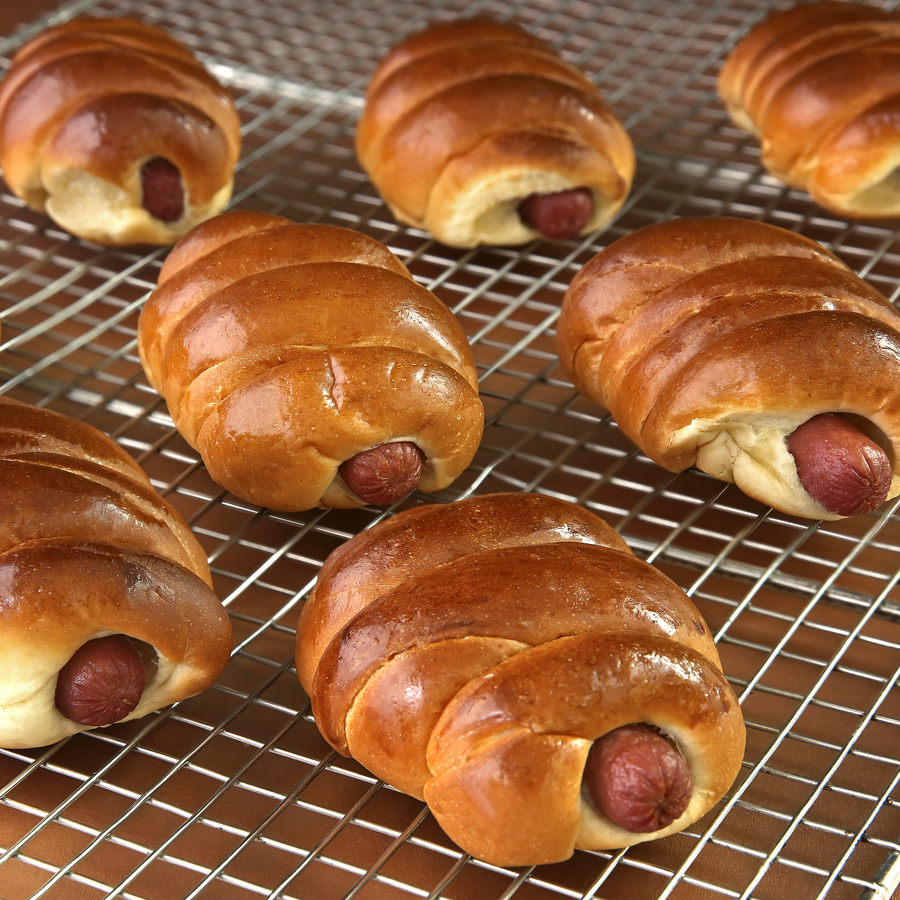 Beyond Meat Sausage Rolls
I am not a fan of soft breads. I prefer the heavy European breads with lots of grains and nuts.  However, this school holiday I decided to make these sausage soft rolls for a friend's kid's birthday party.  These rolls are easy to make and is "no big deal" if you have an electric dough kneader. But then, the joy of making bread lies in kneading the dough with your hands.  You will be able to feel the flour changing textures only if you use your hands. The best part of making breads is when the aroma not only overwhelms you, but your neighbors too!  You can use any kind of sausage or hot dogs.  Be creative; pipe dots of mustard on the buns before serving!  Or place a piece of pickled vegetable along with the sausage and surprise whoever is eating the roll!
Preparation time:   2 hours (including fermentation and proving time)
Cooking time:  18 minutes
Makes:  20
750 g strong flour (bread flour)
40 g caster sugar
15 g salt
1 sachet instant yeast (11 g-13 g)
1 large egg
350 g water
50 g melted butter
20 pieces Beyond Meat sausages or any vegetarian sausages
2 egg whites
30 g water (2 tablespoons)
30 g melted butter (optional)
METHOD
Place the first 6 ingredients  into a mixing bowl and combine. Knead for about 10 minutes until the dough becomes soft and elastic.
Add in the butter and carry on kneading for about 10 minutes or until the dough is smooth and glossy.  You must be able to stretch the dough thin like "roti prata" dough.
Put the dough into an oiled bowl and cover it with cling wrap.  Keep aside at room temperature for about 1 hour or until it doubles      in size.
Take the dough out and place it on a working table.  Punch the dough      to deflate it.
Divide the dough into 20 portions and roll into smooth balls. Keep aside covered with a clean tea towel.
Roll out each ball of dough into a rectangle – large enough to encase a sausage inside.  Place the sausage inside and pinch down the edges. Place this roll on a greased tray (pinched edge end facing down).
Place all the rolls on the tray, leaving 2 cm space in between each.       Cover with a tea towel and leave aside for about 30 minutes or      until it doubles in size again.
Meanwhile, preheat oven to 200°C.
Beat the egg whites and water together. Brush the surface of the risen dough with it.
Place in the oven and bake for about 15-18 minutes or until golden brown.
Brush with butter

 

when still hot.  This step is optional.
Place on a wire rack to cool.
STEP 6 (ALTERNATE METHOD)
You can also roll the dough into a long 1 cm-thick "rope". Using the dough, go round the sausage. Only the end of the sausage should be visible.  Place it with roll end facing down onto the tray.
Follow the rest of the steps as above.