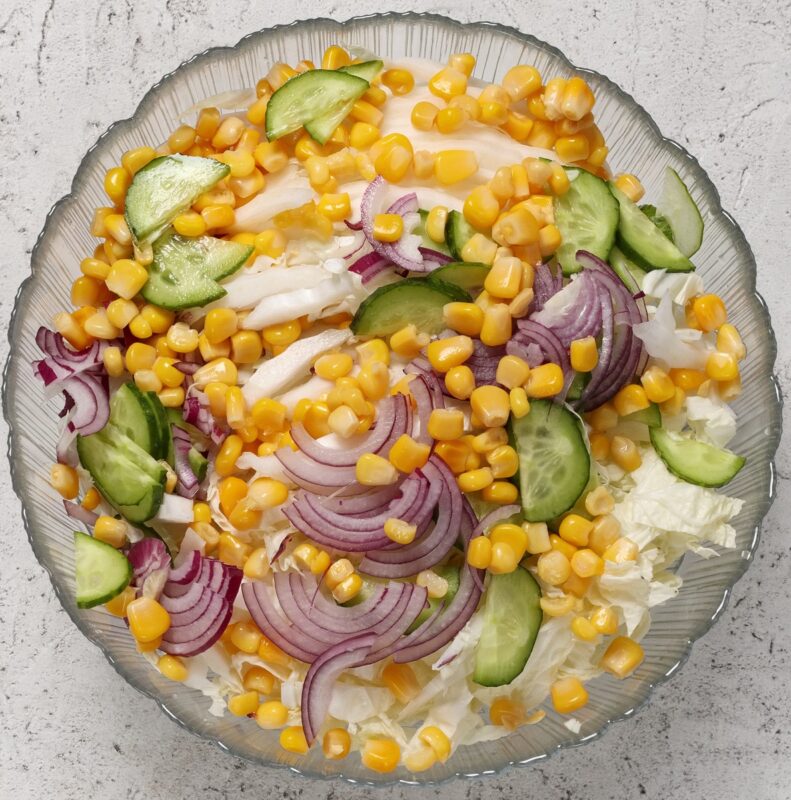 Vegetable Salad with Oriental Dressing
Salads need not be boring. For me an ideal salad, should have a balance of colour, textures and of course the most important part of a salad is the dressing. The dressing must be made with fresh ingredients and the ratio of acid, salt, oil, and flavouring must be balanced. Sometimes the mere addition of ginger, chopped shallots, chopped garlic, or even chopped herbs makes salad dressing even more interesting. Here is a recipe for one of my most favourite dressing.
𝐕𝐄𝐆𝐄𝐓𝐀𝐁𝐋𝐄 𝐒𝐀𝐋𝐀𝐃 𝐖𝐈𝐓𝐇 𝐎𝐑𝐈𝐄𝐍𝐓𝐀𝐋 𝐃𝐑𝐄𝐒𝐒𝐈𝐍𝐆
30 ml corn or sunflower oil
10 ml Chinese sesame oil
50 g julienned young ginger
60 ml cider vinegar or other fruit vinegar
30 ml freshly squeezed lemon or lime juice
10 g grated palm sugar or sugar
10 g dry roasted sesame seeds
5 g salt
2 husked cobs of sweet corn
A quarter of a Chinese cabbage
1 cucumber, sliced
1 large onion, sliced
METHOD
1. TO MAKE THE DRESSING, put the first seven dishes into a small jar and screw the lid. Shake vigorously to mix the ingredients thoroughly.
2. In a pan, bring the corn to boil in salted water for about 10 minutes or until the corn kernels are tender. Drain. Reserve the water for soups or cooking rice.
3. Cool the boiled corn thoroughly and using a sharp knife cut downward as close to the base of the kernels as possible. Rotate the corn and repeat until all the kernels have been removed.
4. Arrange all the salad ingredients in a salad bowl or dish.
5. Just before serving, pour the salad dressing over the vegetables and toss lightly.
6. Serve immediately as a side dish to a main course or use the salad as a topping for a burger.
#chefdevagisanmugam #bananaleaftemptations #spicequeensingapore #corn #salad #orientalsalad #asiansalad #sweetcorn #freshfromfarm #vegetarian #vegetablesalad #vegetablegarden #farmtotable #farmtotabledinner #sgchef #cookingclass #culinaryskills