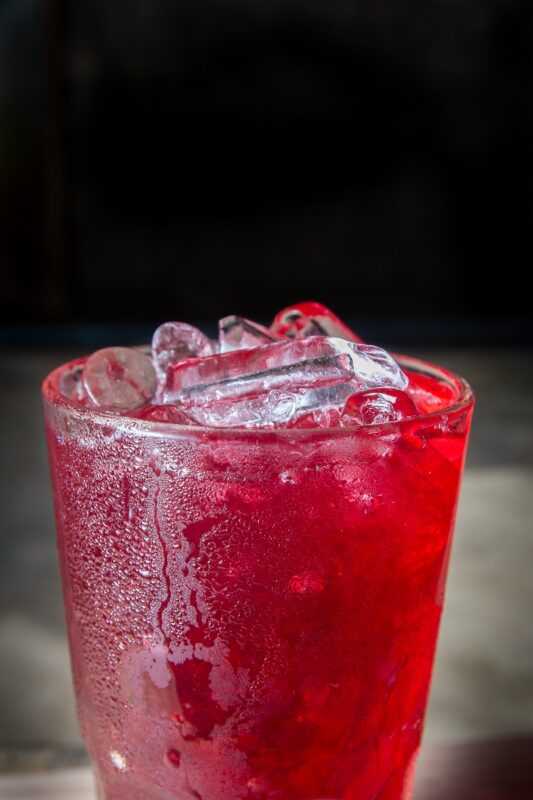 I like the smell of rose syrup or anything that has a hint of rose on it. One of my childhood memories is of watching my mother make at least 10 litres of rose syrup just before Deepavali every year. I have never seen her using any fresh rose petals. I have tried using rose petals though and I did not like the result especially the aroma. Furthermore, I have also seen a thin oil film on the surface of the syrup and I think it must have been from the pesticide sprayed on the roses! Perhaps one day, if I can afford it, I will buy organic roses and try making rose syrup. In the meanwhile, I am satisfied with rose syrup made using rose extract. There are some good brands out there.
You can use rose syrup to make drinks, panna cotta, mousse cakes, ice creams, lassi and so the list goes. Kids love good, iced rose syrup with basil seeds in them! Rose Syrup makes great Christmas gift.
1 kg granulated sugar
1200 ml water
2 cloves
15 ml rose extract or 50 ml rose water
15 ml rose pink colouring
METHOD
Bring sugar, water and cloves to boil until the sugar dissolves.
Skim off and discard any scum that floats on the top of the syrup.
Turn off heat and add in the rose extract and colouring.
Let the syrup cool completely. Remove and discard the cloves before storing the syrup in sterilized bottles.
#chefdevagisanmugam #bananaleaftemptations #spicequeensingapore #rosesyrup #nonalcoholicdrink #flavorsyrups #mocktails #drinkinspiration #seasonofgiving #homemade #desserts #sgdrinks #rosemilk #rosesyrup #roserecipe #rosedrinks #rosecordial #coolingdrinks #pinkdrink