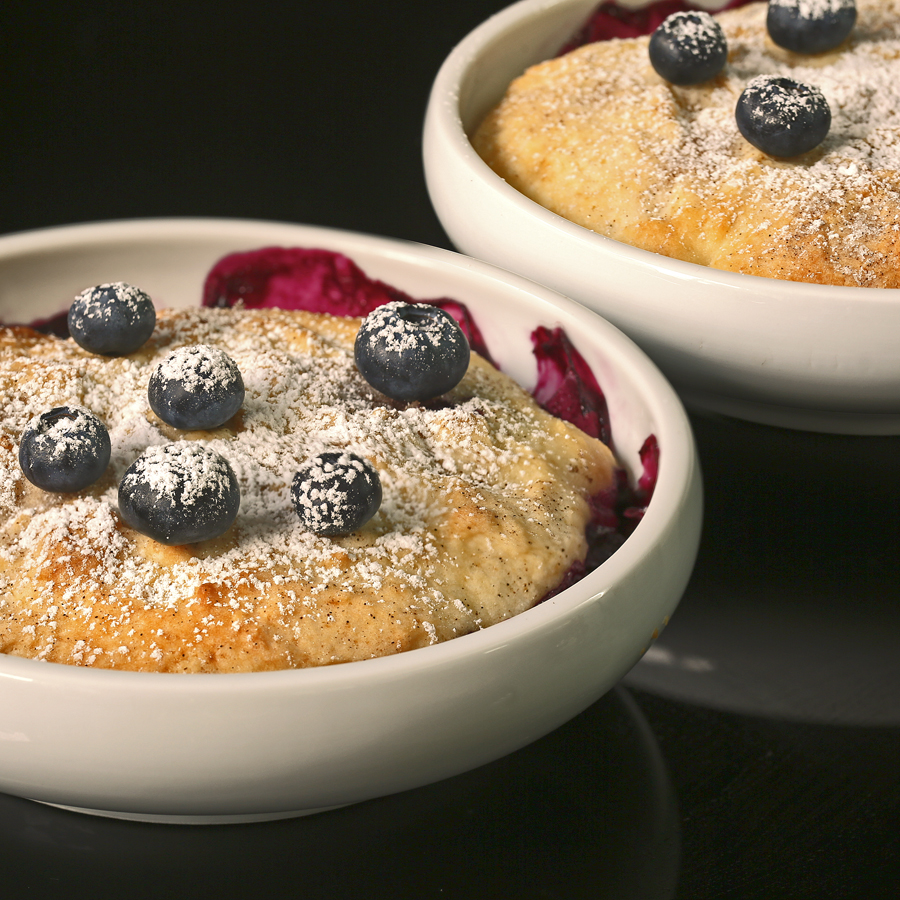 You can use your favorite berries either fresh for frozen for this easy to do dessert. You can also try with other fruits like mangoes, bananas and diced apples. The addition of yoghurt to the topping makes it super soft with a deliciously crisp crust. Sometimes, the blueberries may burst with juice during baking and some juice may bubble over. Therefore, if you want to protect your oven from having drippings of blueberry juice, you should place a pan or a dish to catch any juice that may ooze out. Also, it is advisable to taste the blueberries first. If they are very sweet, omit the 30g of sugar.
𝗕𝗟𝗨𝗘𝗕𝗘𝗥𝗥𝗬 𝗖𝗢𝗕𝗕𝗟𝗘𝗥
240 g plain flour
3 g (1/2 teaspoon) baking powder
90 g salted butter
140 g caster sugar
2 large eggs, lightly whisked
50 g yoghurt, combined with 100 g water
500 g blueberries
30 g caster sugar
10 g plain flour
1 teaspoon vanilla essence
5 g ground cinnamon
40 g caster sugar
icing sugar (optional), for dusting
Vanilla ice-cream (optional), to serve
METHOD
1. Preheat oven to 180°C.
2. Sieve the flour and baking powder into a bowl and set aside.
3. Beat butter and 140 g caster sugar in an electric mixer until light and fluffy (4-5 minutes), scraping down the sides of bowl occasionally.
4. Gradually add the eggs, a little at a time and beat to combine.
5. Then fold in half of the flour and half the yoghurt. And then add in the rest of the yoghurt to make a smooth batter.
6. Combine the blueberries, 30 g caster sugar, 10 g flour and vanilla essence in a separate bowl.
7. Spoon the berry mixture into small ramekin or any oven-proof dish. Dollop the batter over the berry mixture.
8. Combine the cinnamon and remaining caster sugar in a small bowl. Sprinkle over the cobbler and bake until golden, or until a skewer inserted into batter withdraws clean (35-40 minutes).
9. Dust with icing sugar and serve with vanilla ice-cream.
#chefdevagisanmugam #bananaleafttemptations #spicequeensingapore #blueberrycobbler #blueberries #berries #dessert #fruit #easyrecipe #onthetable #wholefoods #tasteofhome #sgcafes #sgbakes #whatchefseat #sgfood #sgeats #sgchefs #homebaked