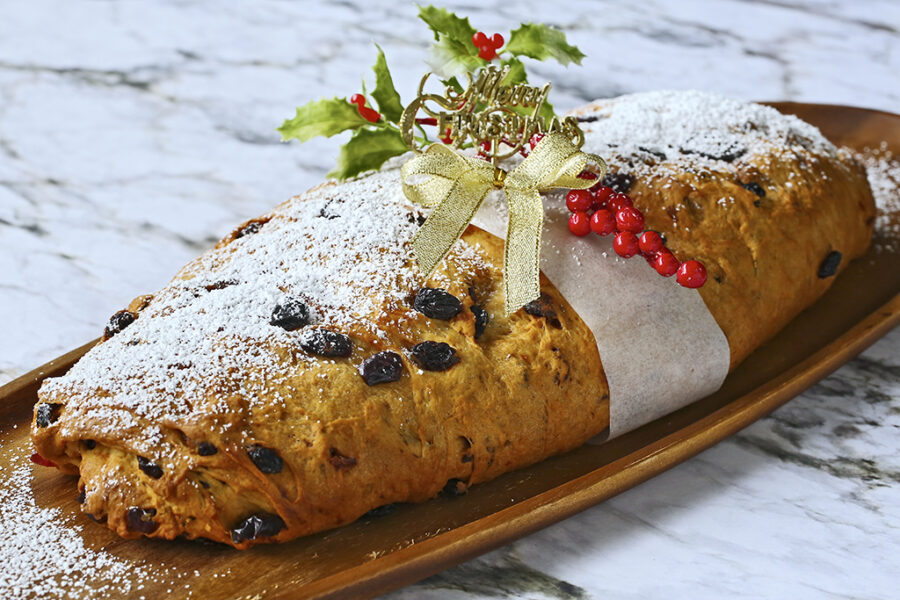 A rich bread packed with lots of dried fruits, stollen is a classic German dish served mainly during Christmas period. Soaking the dried fruits in 100 ml of rum or brandy would make this fruit bread moist and aromatic. I have added marzipan as a filling in the bread and this too helps to keep the bread moist as well as giving it the classic Christmas flavour.
𝗖𝗛𝗥𝗜𝗦𝗧𝗠𝗔𝗦 𝗦𝗧𝗢𝗟𝗟𝗘𝗡
500 g bread flour
1 teaspoon ground cinnamon
80 g caster sugar
1 teaspoon salt
2 teaspoons instant yeast
2 small eggs, lightly beaten
220 ml milk (+/-)
70 g unsalted butter
200 g mixed dried fruits
100 g dried cranberries
200 g marzipan (optional)
2 tablespoons icing sugar mixed with 2 teaspoons ground cinnamon for dusting
METHOD
Put the first 7 ingredients into a mixing bowl and using a dough hook, knead the dough at medium speed for 10 minutes. If using hand, knead for about 15 minutes.
Add in the butter and knead for a further 8 minutes.
Add in the dried mixed fruits and dried cranberries and knead further for 5 minutes.
Lightly oil a large bowl. Place the dough in the bowl, and turn to coat with oil. Cover with a damp cloth and let rise in a warm place until doubled in volume, about 1 hour.
Roll marzipan into a rope.
Punch the risen dough and turn it out onto a floured surface. Roll out into a square.
Place the rolled marzipan in the centre of the dough. Fold the dough over to cover it and pinch the seams together to seal.
Place the loaf, seam side down, on a baking tray lined with non-stick paper.
Cover with a damp cloth and let rise until doubled in volume, about 40 minutes.
Meanwhile, preheat oven to 180°C.
Bake in the preheated oven for 15 minutes and then reduce the heat to 160°C. Bake for another 30-40 minutes or until golden brown.
Cool stollen on wire rack and dust with icing sugar.
#chefdevagisanmugam #bananaleaftemptations #spicequeensingapore #stollen #stollenbread #festivebaking #christmas #baking #Christmasbaking #marzipan #christmascake #germanyfood #homemade #handmade #cookingclass #bakingclass #madefromscratch #driedfruits #fruitbread