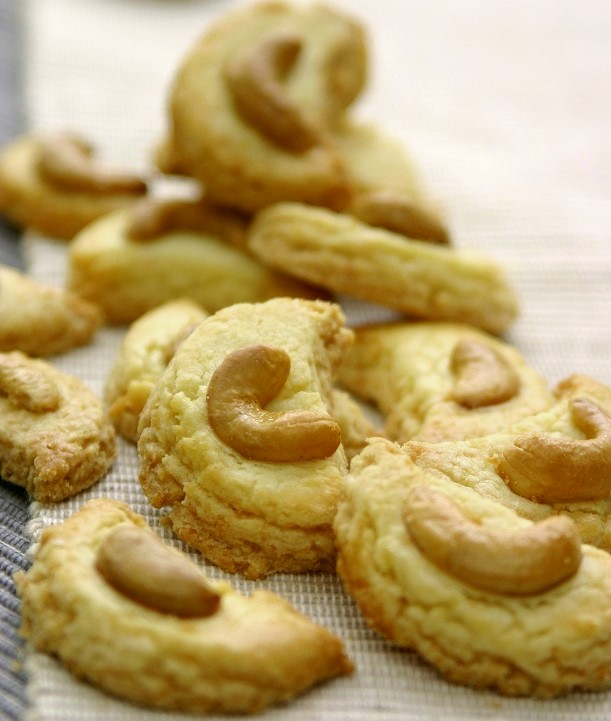 The cashew nut's shape symbolizes the gold bars used in ancient times and therefore, it is an auspicious ingredient used in cooking during Chinese New Year.  With only a few more days left for last-minute baking, I thought I will share a simple but crispy and light cookie recipe. While in this recipe it is necessary to use a crescent-shaped cutter, you can also use round or other shaped cutters too.  You can also make a bigger quantity of the dough and keep it frozen to be used later.  It can be stored for up to 6 months in an airtight container or plastic bag.
Preparation time:     15 minutes
Cooking time:           20 minutes
Makes:                       24 cookies
220 g plain flour, sifted
40 g desiccated coconut
1/2 teaspoon salt
180 g butter
125 g caster sugar
1 teaspoon vanilla essence
1 egg yolk
10-15 untoasted and split cashew nuts
1 small egg, lightly beaten with 1 tablespoon water, for glazing
METHOD
1                 Preheat an oven to 180°C. Line a cookie tray with non-stick paper.
2                 Combine sifted flour, coconut and salt together.
3                 Cream butter, sugar, vanilla essence and egg yolk until light.
4                 Stir in the sifted flour to combine into dough. Roll out dough in between two plastic sheets to 3/4cm thickness.
5                 Stamp out the dough with a crescent-shaped cookie cutter and place on the prepared tray.
6                 Brush lightly with the beaten egg and place a cashew nut half on the centre of each cookie.
7                 Bake in preheated oven for 20 minutes or until golden brown.
8                 Leave on the tray for one to two minutes. Then transfer onto a wire rack to cool.