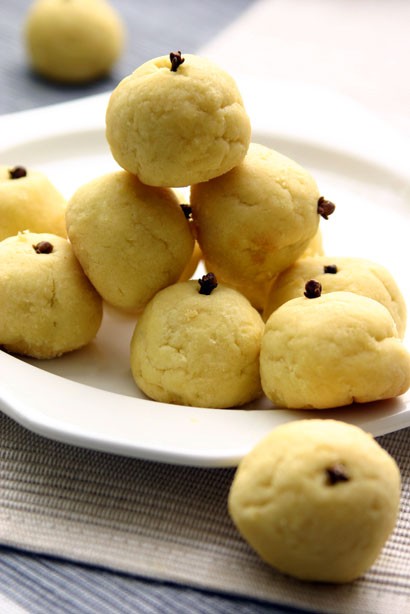 I eat pineapple tarts almost any time of the year and I usually make mine like little golden apples with cloves as stalks! When it comes to pineapple tarts, I would only eat those filled with home-made pineapple jam.  Though it is time consuming, it is certainly a world of difference in taste if you make the jam yourself. Ensure that you do not buy an over-ripe pineapple as the jam will not have a good texture.  You can glaze the rolls with beaten egg yolk; however glazed tarts and rolls tend to go rancid faster.
To make the pineapple jam
2 kg grated fresh ripe pineapple
500 g or more caster sugar
3 cm cinnamon stick or 1 teaspoon ground cinnamon
4 pandan leaves
1 tablespoon golden syrup
METHOD
1   Squeeze out some of the juice from the pineapple.  Don't waste the juice; Drink it – it is good for your skin!
2   Put all the ingredients into a non-stick pan.
3   Cook over a low flame, stirring constantly, till the jam is thick enough to be rolled into cherry-sized balls.
To make the pastry
500 g plain flour, sifted
1 tablespoon caster sugar
1/4 teaspoon salt
300 g butter, cold and cut into small cubes
2 teaspoons lemon juice mixed with 2 tablespoons cold water (or more)
METHOD
Mix the sifted flour with sugar and salt.
Rub the butter in with your fingertips until      the mixture resembles fine breadcrumbs.
Add in the lemon juice mixture.  Mix to form soft dough.  Refrigerate for about half an hour.
Preheat the oven to 180° C.
Take dough out of refrigerator and roll into cherry-sized      balls.  Flatten balls in the palm of      your hand, fill with pineapple jam in the middle and wrap into a small      ball.
Place on a baking sheet. Stick a piece of clove      on top of each ball , if desired.
Bake for 20-25 minutes or until golden.