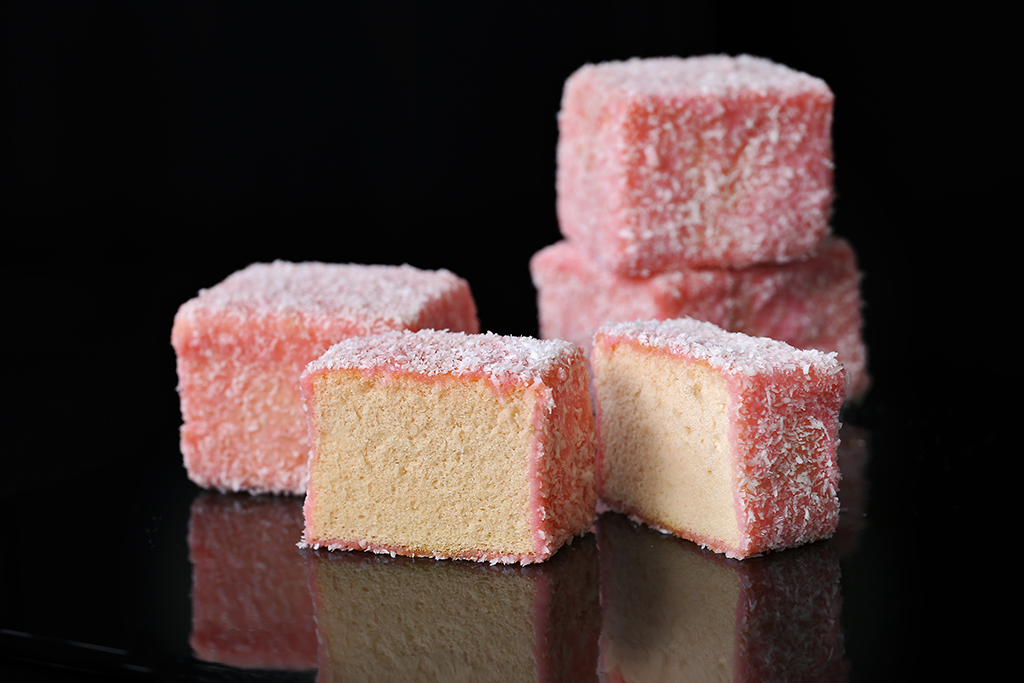 Raspberry lamingtons make very good party cakes.  It is not difficult to bake a batch of lamingtons at home; however I think it is best to make the lamingtons the day before the party.  You can store these little pretty cakes for up to a week in the refrigerator.
𝗥𝗔𝗦𝗣𝗕𝗘𝗥𝗥𝗬 𝗟𝗔𝗠𝗜𝗡𝗚𝗧𝗢𝗡𝗦
380 g plain flour
1 ½ teaspoons baking powder
¼ teaspoon fine salt
180 g unsalted butter
180 g caster sugar
4 large eggs
1 ½ teaspoons vanilla extract
160 ml full cream milk
2 packets raspberry or strawberry jelly crystals
220 g desiccated coconut
METHOD
Preheat oven to 170°C.
Lightly grease a 20 cm x 28 cm x 5 cm baking pan and line with non-stick paper.
In a large bowl, sift together the flour, baking powder, and salt.
Beat the butter until creamy and add the caster sugar and beat until light and fluffy – about 4 minutes on high speed if using an electric cake mixer.
Add one egg and 1 tablespoon of the sifted flour at a time, beating well after each addition.
Scrape down the sides of the bowl. Add the vanilla extract and beat until combined.
With the mixer on low speed, alternately add the flour mixture and milk, in three additions, beginning and ending with the flour.
Spread the batter into the prepared pan and smoothen the top.
Bake in oven for about 25 minutes, or until a skewer inserted in the centre of the cake comes out clean.
Cool the cake in its pan on a wire rack for 10 minutes. Then place a wire rack on top of the cake pan and invert, lifting off the pan. Re-invert.
Once the cake has completely cooled, cut into 6 cm X 6 cm squares.
Wrap the cake in plastic wrap and refrigerate until completely cold.
Using the quantity of boiling and cold water as suggested on the packet, make the two packets of jelly crystals. (2 packets jelly crystals dissolved in 450 ml boiling water; stir and then add 350 ml cold water.)
Swirl the liquid in a bowl over a larger bowl of iced water until it thickens slightly but not beginning to set.
Working quickly, dip the cold lamington squares into the jelly one at a time and let them soak for a few seconds. Then roll in the desiccated coconut.
Place on baking tray lined with non-stick paper.
Once the lamingtons have set, store in an airtight container for several days.
#chefdevagisanmugam #spicequeensingapore #bananaleaftemptations #lamingtons #homebaked #strawberry #raspberry #bakefromscratch #baking #bakinglove #lovetobake #minicakes
#sgcafe #sgcakes #sgcakesofinstagram #sgbakes #lamington #lamingtoncakes #raspberryjelly #cookingclass #learntobake