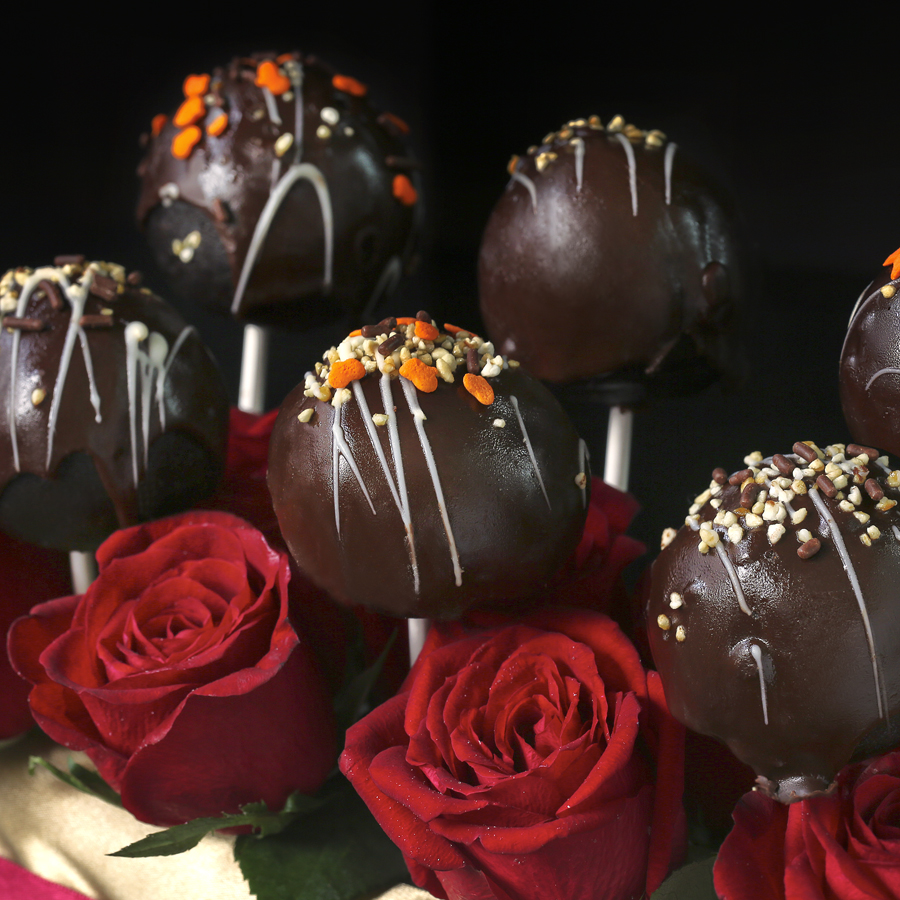 Chocolate has always been associated with Valentine's Day. But then again, who can resist the allure of chocolate on other days? Impress your loved ones with this decadent Chocolate Pop Cakes. Trust me – you don't have to be a baker to make this. It is very simple! You can replace the peanuts with any other ingredients like chopped cherries, colourful sprinkles, edible flowers to name a few. Alternatively, you could simply leave it plain. Adding 2-3 tablespoons of rum would enhance the flavour too.
300 g eggless or with egg chocolate cake (can be bought from any neighbourhood bakeries)
60 g unsalted butter
80 g icing sugar, sifted
80 g milk chocolate, chopped
300 g semi-sweet dark chocolate, chopped
80 g white chocolate, chopped
Pounded toasted peanuts or other nuts(optional)
Pop cake sticks
Polystyrene block (to prop the cake pops up)
METHOD
Crumble the cake into fine crumbs using your hands or a food processor and put into a mixing bowl. Be gentle, do not press the cake crumbs!
Melt the milk chocolate in a small bowl
Beat together the butter and icing sugar until fluffy. Add the melted milk chocolate to this and combine well.
Pour it into the bowl with the cake crumbs. Gently but thoroughly, mix using your hands, until they both stick together.
Divide the mixture into the number of portions you would like to make. (This depends whether you want to make small, medium or large pop cakes)
Shape each portion into a smooth ball. Insert a cake pop stick into each portion and place them on a baking tray lined with non-stick baking paper. Keep them refrigerated for about 3 hours or more or until they become firm and cold.
Melt the dark chocolate over a pan of simmering water.
Take a pop cake at a time and dip it into the melted chocolate. Shake off any excess chocolate gently. Poke the cake pop stick into a polystyrene block.
Melt the white chocolate in a bowl over simmering water. Pour the melted chocolate into a piping bag and pipe thin lines onto the pop cake.
Sprinkle with a bit of pounded peanuts.
Keep refrigerated until just before serving.
#chefdevagisanmugam #bananaleaftemptations #spicequeensingapore #valentines #valentinescupcakes #valentinesideas #valentinespecial #popcakes #sweet #cakepops #popcake
#bakedwithlove #homebaked #sweettooth #lovecakes #sgbakes #sgcafes #cookingclass #homemade #homemadewithlove #sgcakes #ilovecakes