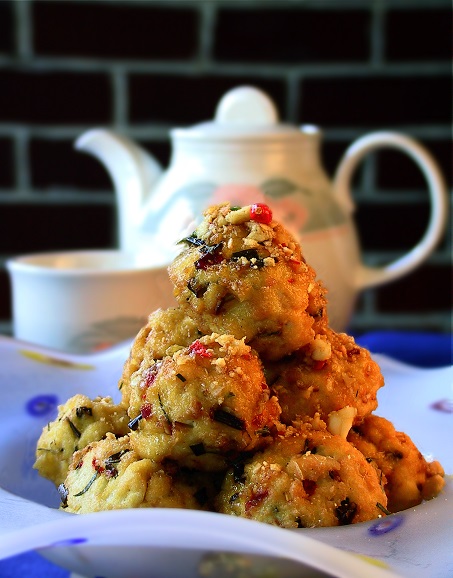 Food is a big part of Hari Raya celebrations, whether it is the fasting days or on the actual celebration day. I am sure by now most of our Muslim friends have already finished their baking and are planning their lunch and dinner menus. Here is a simple and easy-to-do recipe and the highlight of this is the simple peanut sauce!! You can shape the tofu balls one day before and keep them refrigerated.
Preparation time: 2 hours
Cooking time: 20 minutes
Serves: 6
600 g firm tofu, roughly chopped (4 medium pieces)
2 tablespoons chives, finely chopped
4 kaffir lime leaves, finely shredded
2 lemongrass, finely shredded
1 red chilli, seeded and finely sliced
Salt and pepper, to taste
2 tablespoons cornflour
cooking oil for deep frying
METHOD
Mash the tofu well and leave to drain in a colander for 2 hours.
Combine all the ingredients together except the Q.B.B. ghee and oil.
Heat the oil till hot. Shape the tofu mixture into balls and deep fry till golden brown.
Drain on absorbent paper.
Serve with the following dip.
Peanut Dip
30 g garlic cloves
150 ml freshly squeezed lime juice
5 chilli padies
60 g gula melaka
3 tablespoons light soya sauce
120 g roasted peanuts, coarsely pounded
METHOD
Blend the first 5 ingredients in a blender, till smooth.
Pour into a sauce bowl. Top with the peanuts just before serving.