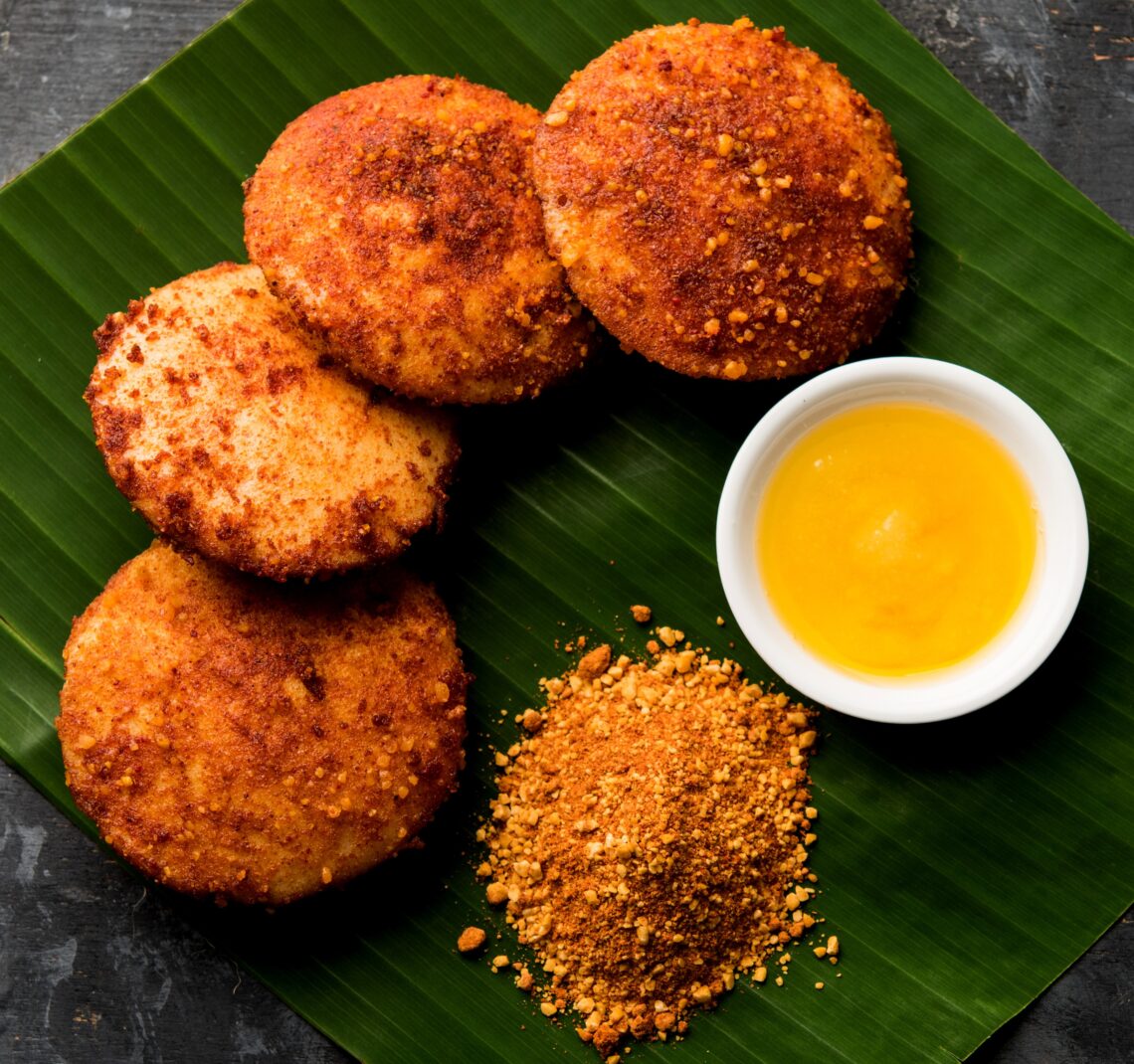 Go Healthy with Indian Breakfast
GO HEALTHY WITH INDIAN BREAKFAST – onsite or zoom cooking class
The World Health Organisation (WHO) recommends the Idli as one of the healthiest breakfasts. Idlis are pack with carbohydrates, proteins, enzymes, fats, amino acids, and fiber, and does not contain saturated fat and cholesterol. Furthermore, the batter for an Idli goes through a long fermentation, creating a complex flavor and texture. Do you know people have built restaurant chains by just selling idlis?!
Chef Devagi Sanmugam takes you on the rudiments of making three different idli batters and classic accompaniments for idlis.
𝐓𝐡𝐞 𝐎𝐫𝐢𝐠𝐢𝐧𝐚𝐥 𝐒𝐨𝐟𝐭 𝐈𝐝𝐥𝐢 (learn the process of grinding the ingredients and fermenting the right way to produce soft idlis)
𝐒𝐞𝐦𝐨𝐥𝐢𝐧𝐚 𝐈𝐝𝐥𝐢 (the perfect combination of ingredients makes this idli moist, fluffy incredibly delicious. And no fermentation required!)
𝐌𝐢𝐧𝐢 𝐆𝐮𝐧𝐩𝐨𝐰𝐝𝐞𝐫 𝐌𝐚𝐬𝐚𝐥𝐚 𝐒𝐨𝐫𝐠𝐡𝐮𝐦 𝐈𝐝𝐥𝐢 (super healthy mini idlis made of sorghum and rolled in home-made gunpowder and tempered)
𝐒𝐚𝐫𝐚𝐯𝐚𝐧𝐚 𝐁𝐡𝐚𝐯𝐚𝐧 𝐓𝐢𝐟𝐟𝐢𝐧 𝐒𝐚𝐦𝐛𝐚𝐫 (South Indian lentil stew made with vegetables, lentils, and a special blend of spices – a sambar so good some people drink this up –copycat recipe of the famous Saravana Bhavan Restaurant chains in India)
𝐀𝐧𝐝𝐡𝐫𝐚 𝐏𝐞𝐚𝐧𝐮𝐭 𝐚𝐧𝐝 𝐂𝐨𝐜𝐨𝐧𝐮𝐭 𝐂𝐡𝐮𝐭𝐧𝐞𝐲 (condiment made with roasted peanuts, coconut, dried chillies etc)
𝐄𝐠𝐠𝐩𝐥𝐚𝐧𝐭 𝐆𝐨𝐭𝐬𝐮 (simple yet delicious eggplant chutney that tastes amazing with all types of idlis, thosais and rice)
𝐅𝐥𝐚𝐱𝐬𝐞𝐞𝐝 𝐆𝐮𝐧𝐩𝐨𝐰𝐝𝐞𝐫 (an extremely healthy Indian spice blend to accompany the thosai and Idli or to be used as sprinkle to give that good bang!)
Date: Sunday 10th July 2022
Time: 1 pm – 4 pm
Venue: The Kitchen Society, 41 Tessensohn Road, Singapore 217660
To register: +65 6733 0808
[email protected]
Link: https://thekitchensociety.com/collections/frontpage/products/go-healthy-with-indian-breakfast