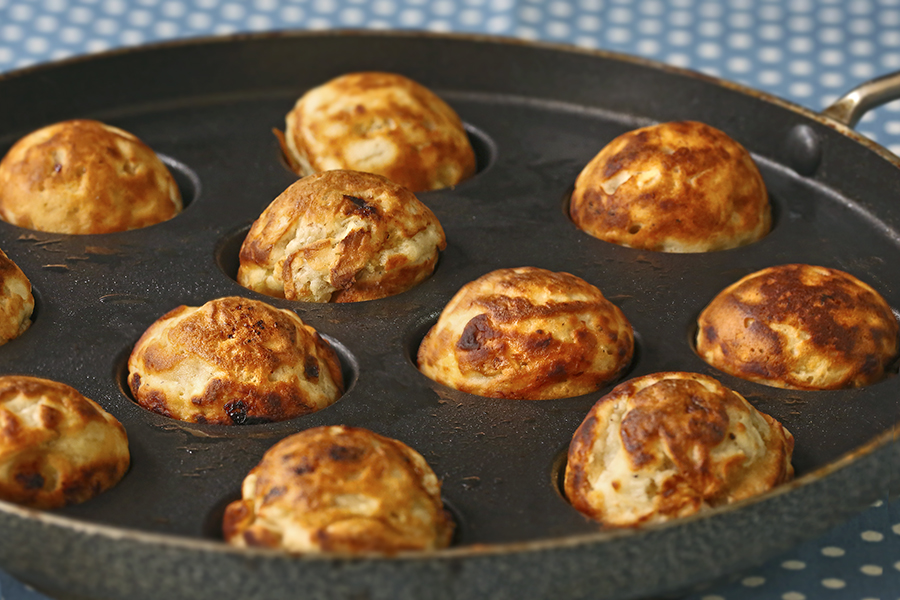 I enjoy using fruits, particularly bananas to cook snacks and desserts. Bananas are very high in nutrients and are so versatile – you can use it sliced, whole, baked, mashed and in many other ways. I have grown up eating jemput jemput (Malay style fried banana fritters), goreng pisang (deep fried batter coated bananas) and banana paniyaram at home. Paniyaram is a Tamilian classic fritter and I just cannot stop at one.
Paniyaram is usually made using a special pan called the paniyaram chatti. There is the traditional heavy iron pan or the modern non-stick pan. Each of these pans will have several deep indentions where you fill up with the prepared batter. The filled pan is then placed on medium heat and cooked. The paniyarams are turned once or twice during the cooking process until the paniyaram turns golden brown.
My mother used to soak rice grains, grind the grains with coconut and bananas and then flavour it with ground cardamoms, coconut chips and chunky mashed bananas. I have decided to do the short-cut version by using self-raising flour. Paniyaram is great served with strong Indian milk tea…..simply yum!
Preparation time: 35 minutes
Cooking time: 20 minutes
Serves: 6
80 g cashew nuts, toasted and chopped coarsely
240 g self-raising flour
200 g bananas or jackfruit, mashed
50 g brown sugar or caster sugar
120 g grated coconut
1 teaspoon cardamom powder
125 ml water
¼ teaspoon salt
Ghee for greasing 'paniyaram' mould
METHOD
Combine all the ingredients except the Q.B.B. Pure Ghee to form a thick batter.
Leave it aside for half hour.
Heat a 'paniyaram' mould and grease it with ghee.
When it is very hot, drop tablespoons of the prepared batter in and shallow fry the fritters till golden brown, occasionally turning the fritters.
Drain on absorbent paper.
Serve hot.