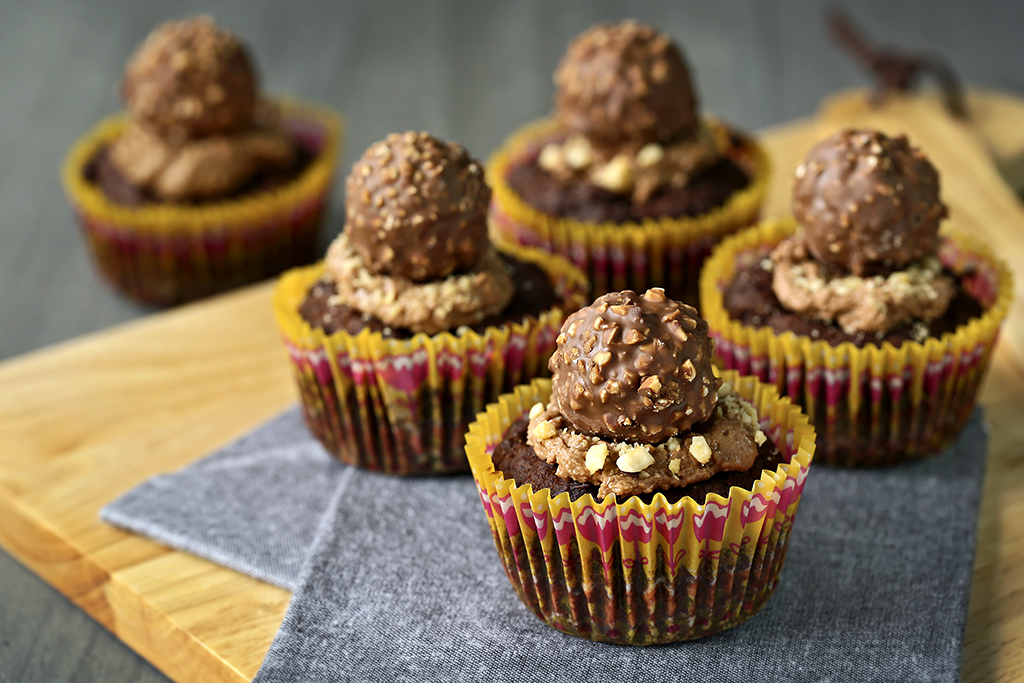 I love this cupcake for its tasty contrasting layers – creamy hazelnut filling, the crisp wafer shell, the crunchy hazelnut in the centre and the yummy taste of Nutella on the surface of the cake!
𝗥𝗢𝗖𝗛𝗘𝗥 𝗖𝗨𝗣𝗖𝗔𝗞𝗘𝗦
180 g unsalted butter, room temperature
80 g caster sugar
3 large eggs, lightly beaten
1 teaspoon vanilla extract
100 g sour cream
70 g unsweetened cocoa powder
100 g plain flour
½ teaspoon baking powder
¼ teaspoon salt
12 Ferrero Rocher
Chopped hazelnuts (optional)
Chocolate syrup (optional)
NUTELLA FROSTING
50 g salted butter, softened
80 g Nutella
100 g icing sugar, sifted
1 tablespoon milk
METHOD
Preheat the oven to 180°C. Line a muffin pan with cupcake liners.
Cream unsalted butter and caster sugar until light and fluffy in a large mixing bowl.
Add beaten eggs, a little at a time, mixing well after each addition.
Add the vanilla extract and sour cream and mix well.
Sift in the cocoa powder, flour, baking powder and salt and fold it lightly.
Scoop batter into 12 muffin pans and bake cupcakes for about 20-25 minutes, or until a toothpick inserted into the centre comes out clean.
Remove from oven and cool completely.
In the meanwhile, prepare the frosting by beating the salted butter and Nutella until smooth and creamy.
Sift in the icing sugar and beat until smooth. If you find the cream too thick for piping, add the milk and beat again till smooth.
Pipe or spread the frosting over each cake. Lightly press a Ferrero Rocher onto the centre of the frosting of each cupcake.
Sprinkle with chopped hazelnuts or drizzle with chocolate syrup if desired.
#chefdevagisanmugam #bananaleaftemptations #spicequeensingapore #ferrerorocher #ferrorocher #chocolatecupcakes #nutellacupcakes #nutellabuttercream #ferrerorochercupcakes #cupcakes #cupcakelove #homebaked #sgbakes #sgbakesale #cookingclass #sgcafe #sgcafefood #bakefromscratch