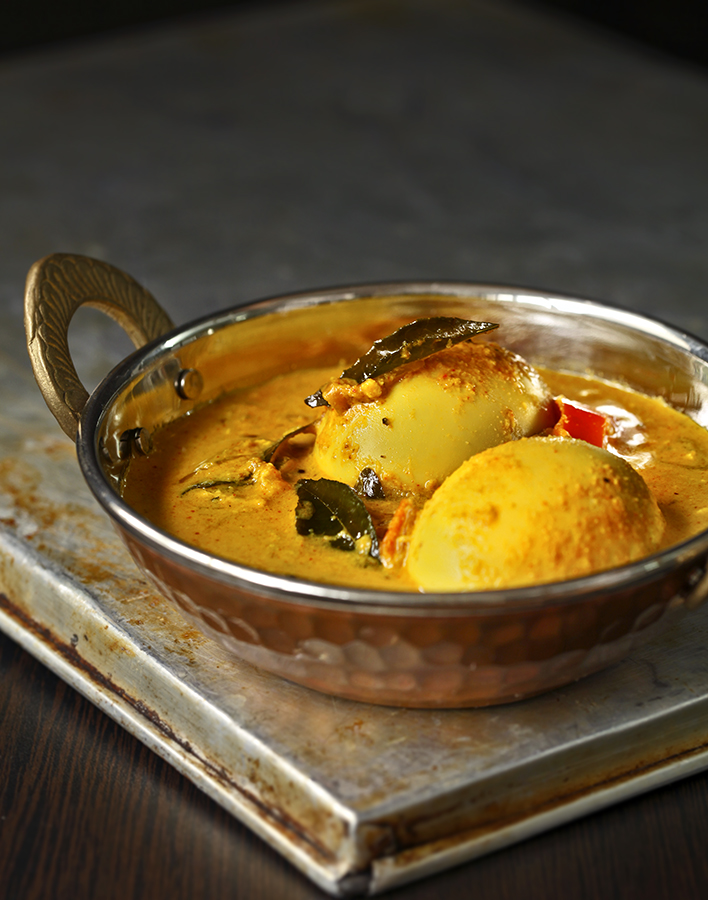 This egg curry can be served with any Indian staples like appam, thosai, prata or even rice. For those who are not familiar with "fish or meat curry powder", do not worry – you can substitute with 35g coriander powder, 15g chilli powder, 10g garam masala powder, 5g turmeric powder and 5g cumin powder.
100 g grated coconut
100 g ginger-garlic paste
70 g fish or meat curry powder
300 ml water
2 tablespoons ghee or cooking oil
1 teaspoon fennel seeds, coarsely pounded
1 teaspoon mustard seeds
1 teaspoon cumin seeds
300 g shallots, sliced
2 sprigs curry leaves
200 g tomatoes, chopped
180 g tamarind, macerated in 1000 ml water and strained
300 g brinjals, cubed
1 teaspoon salt
100 g coconut cream
6 hardboiled eggs, shelled
2 tablespoons chopped coriander leaves
METHOD
Place the first four ingredients in a blender and blend till the coconut is smooth.
Heat ghee or cooking oil on medium heat and fry the fennel seeds, mustard seeds and cumin seeds until very aromatic and add in the sliced shallots and curry leaves and sauté till shallots turn light brown.
Add in the chopped tomatoes and sauté till the tomatoes become pulpy and then add in the blended ingredients and fry, stirring frequently until oil separates.
Pour in the tamarind water and add in the brinjal cubes and bring to boil for 10 minutes or until the brinjal pieces are cooked.
Add in the coconut cream and hardboiled eggs. Bring to boil stirring constantly and remove from heat.
Add chopped coriander leaves before serving.
#chefdevagisanmugam#spicequeensingapore#keralafood#keralafoodie#eggcurry#culinaryjourney#Indiancuisine#asianculinary#celebritychef#bananaleaftemptations#cookingclass#bananaleaffood#keralatourism#homecooking#homemade#joyofcooking#sgeats#sgfood#explorefood#sgfoodies#whattoeatsg#whattocook