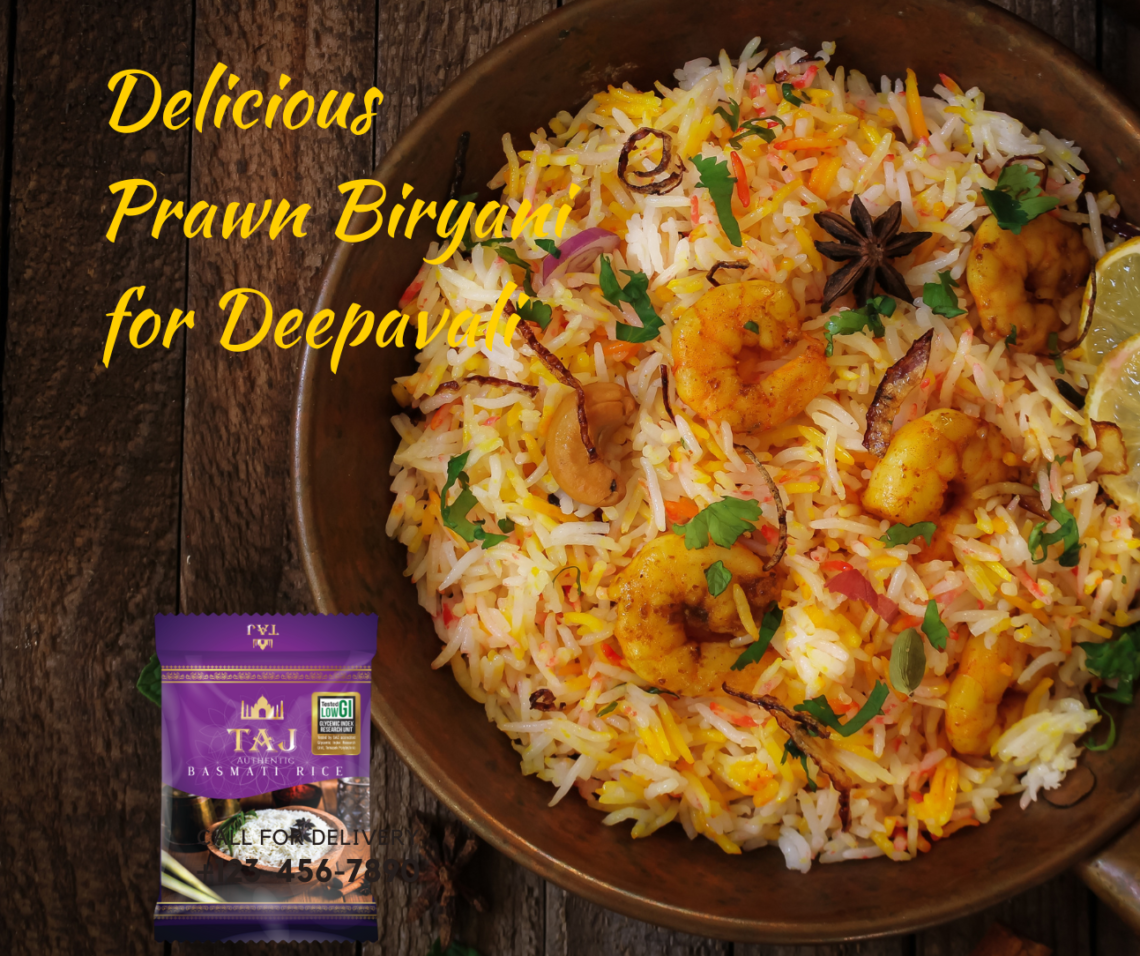 This Prawn Biryani bursts with a harmonious medley of zesty, tangy, and subtly spicy notes, making it a delectable centerpiece for the festive celebration.
4 tablespoons ginger-garlic paste
2 tablespoons Fish curry powder
100 ml yoghurt
1 tablespoons lemon juice
2 tablespoons finely chopped coriander leaves
2 tablespoons finely chopped mint leaves
1 teaspoon salt
750 g large prawns, shelled with tails intact
3 tablespoons ghee or olive oil
2 X 3 cm cinnamon sticks
7 cardamoms
5 cloves
2 bay leaves
200 g tomatoes, seeded and finely chopped
4 tablespoons chopped mint leaves
4 tablespoons chopped coriander leaves
4 thin slices ginger
2 green chillies, slit lengthwise
4 garlic cloves, pounded coarsely
100 ml plain natural yoghurt, beaten until smooth
1 ½ teaspoons salt
500 g 𝐓𝐀𝐉 Basmati rice, washed and drained
800 ml fish or chicken stock or water
1 teaspoon briyani powder
1 teaspoon egg yellow colouring or pinch of saffron soaked in 2 tablespoons hot water
METHOD
Place the first SEVEN ingredients in a mixing bowl. Combine well.
Put in the prawns and coat with this marinade. Leave aside for 20 minutes.
Heat oil in a pot and fry the whole spices until aromatic.
Add in the tomatoes, mint leaves and coriander leaves and sauté till the tomatoes turn pulpy.
Add in the rest of the ingredients into the rice cooker pot, stir to mix well and turn on rice cooker.
When rice is half cooked, push the marinated prawns into the rice, cover with banana leaf or non-stick paper and carry on cooking for 10 minutes on low flame.
Remove from heat and keep aside for 15 minutes before removing and discarding the whole spices and fluff up the rice.
#chefdevagisanmugam #diningwithdevagi #cookingclass #festivecooking #Deepavalidishes #tajbasmatirice #lowGI #cookhealthierthisfestiveseason #onericemanyflavours
#authenticgoodnessineverygrain