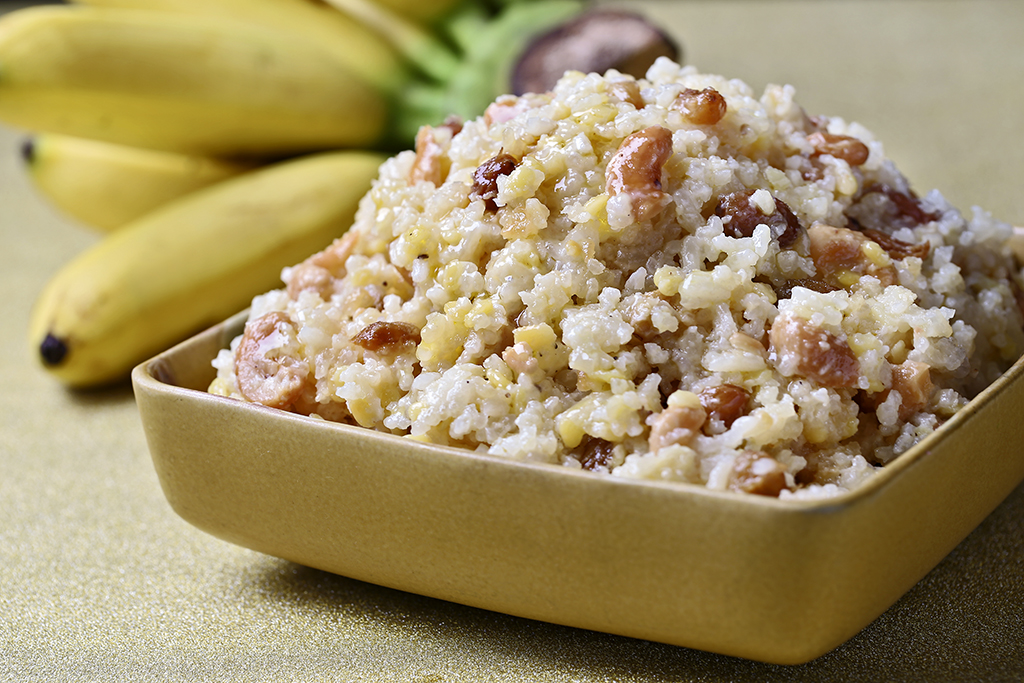 Sakkarai Pongal, Sakkarai Satham or Pongal Soru describes a sweet rich rice usually made for any Hindu auspicious event in Tamil Nadu, mainly by the Tamilians.  There are many versions of it – each family or dialect group makes it differently.
I like Sakkarai Satham and do not restrict it to festive occasions only.  I experiment with different combinations of ingredients and serve it in different ways too.
For example:
1.   Add 100 g grated carrot to the recipe below and add ½ teaspoon ground cinnamon
2.  Reduce the jaggery to 100 g and add 120 g of chocolate chips and just let the chocolate melt into the rice
3.    Fold in few tablespoons of sakarai satham into a tub of softened vanilla ice cream and freeze it again.
4.   Eat sakarai satham with banana or mango slices
 
 
350 g rice grains, washed and drained
100 g split and husked mung dhal (rinsed and soaked for 30 minutes and drained)
1000 ml water
800 ml full cream milk
80 g ghee or butter
50 g cashew nut halves
50 g raisins
200 g grated golden jaggery
1 teaspoon freshly ground cardamom powder
½ teaspoon ground nutmeg (optional)
 
METHOD
 
1.   Place rice, dhal and water in a pan and boil till rice is tender.
2.   Add milk and cook, stirring occasionally to prevent scorching, until dhal is mushy.
3.  Melt ghee in a small pan and fry the cashew nuts till golden brown.  Drain to a plate and fry the raisins until they are plump and keep aside.
4.  Stir the grated jaggery into the cooked rice and cook further until jaggery is melted and rice is slightly thickened, about 3–4 minutes.
5.  Add in the fried cashew nuts, raisins, the ghee that remains in the pan after frying the cashew nuts, ground cardamom and nutmeg and combine well.
6.   Serve warm or at room temperature.