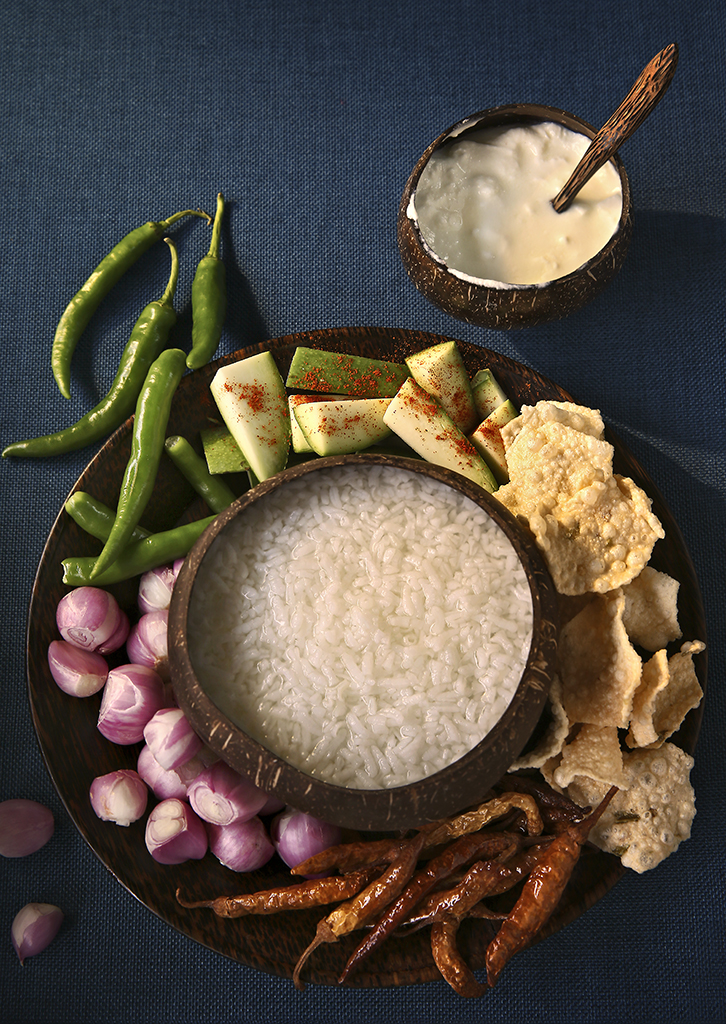 Benefits of eating fermented brown rice (overnight rice)
For several centuries rice remained the staple grain food for the people in India. The concept of the fermented or the overnight rice is very popular across several states in the country. It was for long considered as a rural Indian household practice, but recently, the overnight water soaked rice has popped up in the mainstream health industry and more and more people seem to be interested in adopting it.
Rice is a starchy food and a good source of energy. Rice is broken down into simple sugars and transformed into glucose by our body when consumed. When the storage of glucose rises in the body, it turns into fat.
When rice is soaked in water for 12 hours, the bacteria generated, creates lactic acid and this doubles the potassium and iron in the soaked rice water. Therefore this becomes a healthy food fully packed with Vitamin B6 and B12.
Let us look at the benefits of eating overnight rice. However, do not consume more than half cup of this overnight rice. Preferably the rice should be brown rice.
Note: For aesthetic reason, I have used white rice when cooking for the photo in this article.
A rich source of Vitamin B12
The fermented or the overnight, cooked rice is regarded as the richest source of Vitamin B12. Individuals with deficiency in B12 can benefit from eating the fermented rice. When you have a deficiency in Vitamin B12, you suffer from megaloblastic anemia that makes you weak and tired. Therefore, it is recommended to include fermented rice in your breakfast and boost your energy with a host of other benefits.
Youthful looking skin
Everyday desires to maintain the youthful glow and radiance of the skin. But as we age, due to our lifestyle and environmental pollution, our skin tends to lose the natural glow and beauty. But, surprisingly, if you consume the overnight, cooked nice on a regular basis, you can maintain the youthful and the nourished skin complexion.
No craving for caffeine
Excessive consumption of caffeine or tea is not a very healthy habit for your body. But every day when we wake up, our body and mind craves for a hot cup of tea or a coffee. It has been a habit for a pretty long time. If you are considering a healthier lifestyle and want to eliminate the habit, start eating fermented rice in your breakfast.
Eliminate or reduce high blood pressure
Are you struggling hard with your high blood pressure? You don't have to restrict yourself with the diet and pop a number of pills for the problem anymore. You can naturally bring your blood pressure to normal when you eat fermented rice every day in your breakfast.
Prevents stomach ailments
One of the striking aspects of consuming the overnight, cooked rice is that it helps in eliminating or disappearing the stomach ailments that have made your life very challenging. Moreover, if you have been suffering from acute or minor constipation issues, fermented rice consumption can act as a relief agent.
Get rid of skin related troubles
Skin allergies and troubles like acne and pimple breakouts, and rashes can be a very painful and irritating experience. You might have spent thousands of dollars on the cosmetic products to get rid of them, but they seem to be vain. Why don't you try out eating the fermented rice every day in the breakfast? It has been found to be beneficial in eliminating the skin related issues.
Optimal body functioning
When you start your day by eating fermented rice, you are offering the essential nutrients keep the body function at the optimal level all day long. Basically, your body remains energized, and you can give as much manual labor as possible. Moreover, the cooling effect is beneficial for those staying in hot and humid climate conditions.
What are you waiting for? Start consuming fermented rice from today and find out the difference it brings in your body.