Indian Style Pupunha Spaghetti
My lunch was cooked with Palmito Pupunha Spaghetti courtesy of @mundalah . Wondering what is Palmito Pupunha?? It is the heart of palm. This is the first time I am tasting the heart of palm in the form of a spaghetti. And I like it shredded like these than in chunks.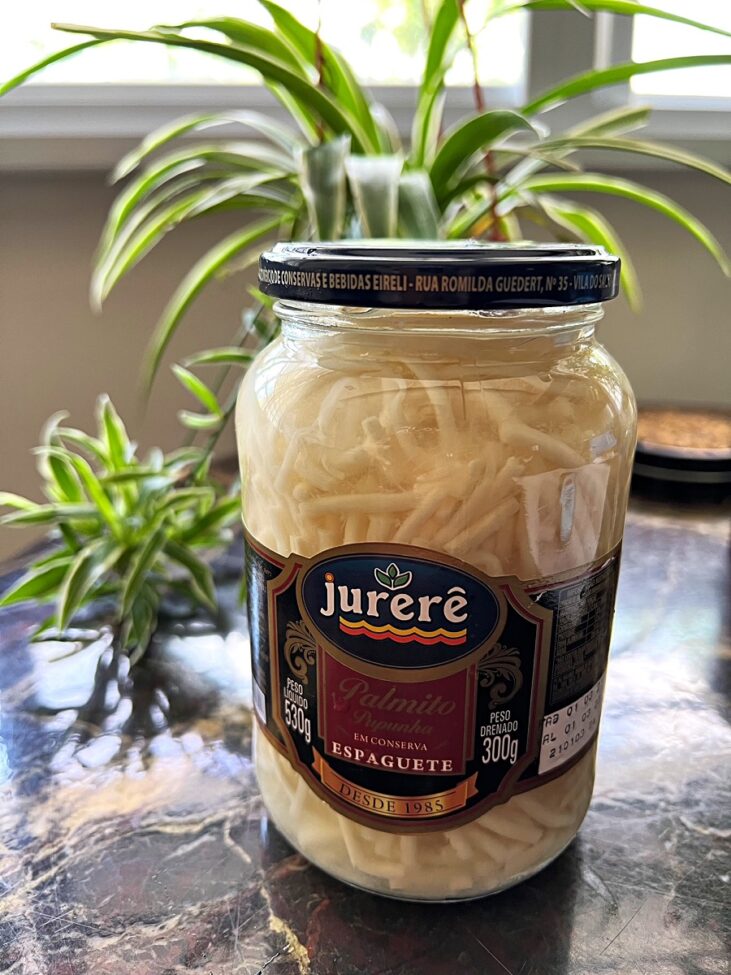 I drained the vegetable-based spaghetti from the jar. I found it a bit too salty for me.
and so rinsed it lightly, furthermore I wanted to add some cheese let later.
I heated couple of tablespoons of olive oil and then I tempered mustard seeds and cumin seeds until aromatic. Then I added in curry leaves. I sautéed for a minute and added in the drained heart of palm spaghetti and quickly tossed it so that the tempered oil will coat the spaghetti well.
I dished it out and sprinkled one teaspoon of my home-made gunpowder and a generous handful grated parmesan cheese. You can add chilli flecks at time of sauteing the spices if you want too.
It was a satisfying lunch – not overly heavy and I know for a fact that heart of palm is low in calories compared to actual pasta. It is versatile too as you can add it to any salad or curry. Try stir frying it with vegetables. It will be very nice in curries that have coconut milk example Thai green curry, a vegetable Korma or even the lemak sayur.
The heart of palm is not limited to Brazilian cuisine!! Substitute our Asian bamboo shoots for the heart of palm anytime.
#palmito #palmitopupunha #vegan #vegetarian #vegetarianfood #food #fitfood #cleanfood #Brazilian #innovativeindiancuisine #lowcalories #heartofpalm #spaghetti # #espaguete #visitbrazil